Chinese premier arrives in Thailand for GMS meeting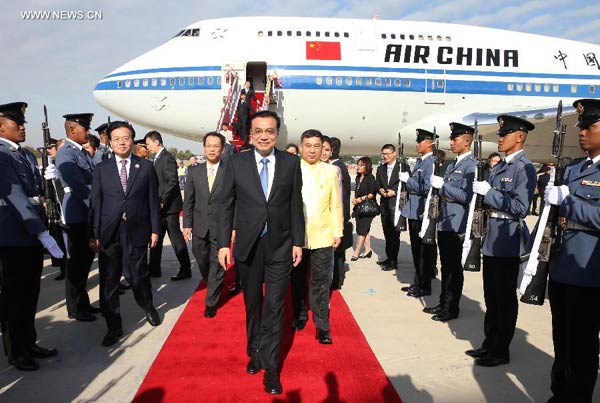 Chinese Premier Li Keqiang (C, front) arrives in Bangkok, Thailand, Dec. 19, 2014. Li arrived here Friday to attend the fifth summit of the Greater Mekong Subregion (GMS) Economic Cooperation. [Photo/Xinhua]
BANGKOK -- Chinese Premier Li Keqiang arrived at Bangkok Friday to attend the fifth summit of the Greater Mekong Subregion (GMS) Economic Cooperation.
It will be the first time for Li to attend the summit.
Regional leaders at the meeting are expected to discuss inclusive and sustainable development in the region and work for deepening partnership.
The GMS Economic Cooperation Program, which was started in 1992 by six countries along the Mekong River -- Cambodia, China, Laos, Myanmar, Thailand and Vietnam, aims to link these countries through improving infrastructure, promoting trade and investment and stimulating economic growth.
The upcoming summit will provide a strong impetus for subregional cooperation by identifying 92 priority investment projects and passing an investment framework plan from 2014 to 2018, Chinese Vice Foreign Minister Wang Chao said ahead of Li's trip.
Thailand is the last stop of Li's ongoing three-nation Eurasia tour. Before arriving in Bangkok, he was in Kazakhstan for an official visit and a prime ministers' meeting of the Shanghai Cooperation Organization, and later visited Serbia and attended the leaders' meeting of China and Central and Eastern European countries.