Chinese premier proposes to upgrade China-Africa cooperation in six areas
Updated: 2014-05-05 20:59
(Xinhua)
Comments
Print
Mail
Large
Medium
Small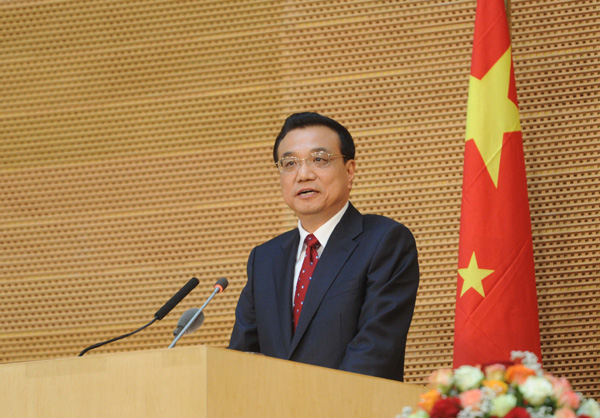 Chinese Premier Li Keqiang delivers a speech at the headquarters of the African Union in Addis Ababa of Ethiopia May 5, 2014.
 [Photo by Li Xueren/Xinhua] 
ADDIS ABABA - Chinese Premier Li Keqiang proposed Monday that China and Africa earnestly boost collaboration in industry, finance, poverty reduction, ecological protection, people-to-people exchanges, and peace and security so as to create an upgraded version of their all-round cooperation.
Li outlined the proposal in a speech delivered at the headquarters of the African Union in which he expounded China's Africa policy and reaffirmed Beijing's commitment to further deepening the China-Africa comprehensive cooperative partnership.
With regard to industrial cooperation, Li noted the rapid growth of bilateral trade over recent years and urged the two sides to bring the volume to 400 billion US dollars by 2020. The figure stood at 210.2 billion dollars in 2013.
China is ready to expand cooperation with Africa in building road, rail, telecommunications, power grid and other infrastructure so as to help the continent realize regional interconnection, he said, adding that Beijing also encourages Chinese enterprises to form joint ventures with African counterparts in a bid to improve Africa's regional aviation industry.
Other focuses on Li's speech
Africa is polar of world
Chinese Premier Li Keqiang spoke highly of the role of Africa, saying the continent is a polar of world politics, global economic growth and human civilization.
Assistance in high-speed rail
All African capitals are connected with high-speed rail so as to boost pan-African communication and development.  
The premier also highlighted a dream of connecting African capitals with high-speed rail, saying that China is willing to use its world-leading technologies in this area to help make the dream come true so as to improve pan-African communication and development.
In the financial area, Li said China has decided to increase its loans for African countries by 10 billion dollars, which brings the total pledged amount to 30 billion dollars, and to expand the China-Africa development fund by two billion dollars to five billion dollars.
As to poverty reduction, China will train 2,000 agricultural technicians and management personnel for Africa in the coming five years, and tilt its assistance toward such welfare areas as drinking water and prevention and control of epidemics.
Stressing that ecological protection is a shared responsibility of all humanity, Li said the Chinese government will provide Africa with 10 million dollars of free aid for wild life preservation and promote joint research in protecting biological diversity, preventing and controlling desertification and promoting modern agriculture.
In respect of people-to-people exchanges, Li said China will carry out its African talent plan in an all-round manner and will provide African countries with 18,000 government scholarships and help them train 30,000 various professionals as scheduled.
As for peace and security, Li said China supports Africa to solve African problems in the African way and stands ready to assist Africa's capacity-building in such areas as peace-keeping, counter-terrorism and anti-piracy.
China, he said, will offer South Sudan another 50 million yuan (about eight million dollars) of humanitarian aid to help deal with the humanitarian crisis in the African country.