An insider's view of China-Kenya ties
Updated: 2014-04-14 16:57
By Cecilia Asaj (chinadaily.com.cn)
Comments
Print
Mail
Large
Medium
Small
Please click to read more My China Stories
In the interest of full disclosure, I must say I have known China for a very long time. My interaction with this country dates back almost twenty five years ago when I learnt how to read and write, and it dawned on me that quite a good amount of stuff around me carried the label, 'made in Shanghai China'.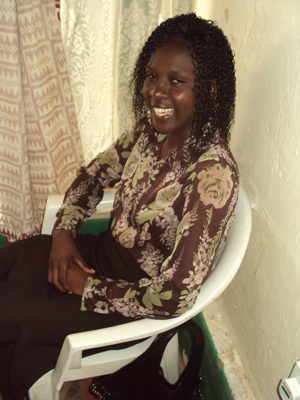 Cecilia Asaj [Photo provided to chinadaily.com.cn]
When I joined the job seekers' club very recently, I held China in high esteem. It was, and still is a country I strongly admire to be a part of, leave alone longing to visit. My admiration is however disturbed by what I consider a rumor that long ago found its way through my innocent ears .about a certain machine, China made I suppose, which detected ones HIV status before departure at the airports. Apparently, when carrying the HIV virus in your warm blood, you were not allowed to travel abroad. Do not be surprised to know that the writer is a person living positively. Did I hear you gasp? Sorry, but we all know that this is just but a condition. Back to my serious point, it will be improper for me to analyze China's relations with my country Kenya as a smart calculation for the period we have closely interacted. That said, as a young, passionate, focused, job seeking Kenyan, I would like to make some observations, though some may be totally unrelated to China, but observations that may be helpful to China's admirers.
First, unlike any other successful country relating closely with Kenya, China has had to work twice as hard to be accepted by the Kenyan community. Given that China has been the most talked about manufacturer and contactor, it matters little that it is highly qualified as the manufacturer of the product in question or the contractor in the given section. China's economic and trade association with Kenya has become like its shadow following it wherever it is represented.
Most recently, it has been publicly acknowledged that there are some Kenyan folks, who, whenever they see a 'china man', they only see three things - A person who resembles all the rest from his origin, a manufacturer of short-lived stuff and a tae-kwondo guru. It seems like there is nothing China can do to change the Kenyan people's perception.
The second thing that China did that put it on a collision course with a section of the Diaspora is when it declared war on single sim card phones and introduced the twin sim make. Some Kenyans are notoriously critical on ideas they can never attempt to come up with, due to water melon brains, even though most are too ashamed to accept this fact.
The worst are the older generation, a majority kind of fall in the high and mighty group, who have become the gatekeepers of everything Kenya associates with, and believe that for anybody or any initiative to succeed, it has to have their blessings. Some have come up with ideologies that are completely baseless, not to mention how they aim at frustrating the low class citizens. So, when China comes on the scene and proves how successful China-made ideas can be, they take offense and draw daggers, when I thought they should take a step and find out how it was done; to add an idea or two to whatever they have, that is if they had any in the first place.
Third, China has closely liased with Kenya in the construction and engineering sectors, bearing almost excellent fruits to the economy of Kenya. You will agree with me that in the mid 80's, though I was barely five, Juja was nothing but a cluster of shanties. It has now seen tremendous growth and transformation with the demand for housing almost outstripping supply as a result of the swelling population catalyzed by yes, the high number of institutions of higher learning , but also sparked off by the unique Thika Highway. Land prices have shot through the roof with real estate becoming the main economic venture.
Let me tell you a very short story for free. I happened to be among the Mwiki residents a few years back; This is a small estate situated miles away from the city of Nairobi. Automatically Thika road is a familiar road to me, and I very well understand the humiliating mad traffic disease suffered by its users. So to speak, residents, not forgetting my brothers and sisters from Kayole, Kahawa, Roysambu, Maji Mazuri and many others carried the big law with them, and if broken, it meant you got the small laws, resulting into stifling restraints. It stated that, you shall rise up early and catch the early morning bus. Only this way, will you be able to evade the heavy traffic jam. Many are the days I reached the city very early in the morning and I was forced to sit or stand at a bus terminus having nowhere to go because the offices had not been opened yet. Let me not tell you the troublesome moments of enduring the morning chills and harassment from the city council cleaners who needed 'their space' to do their job well. However, there was a better option to this menace, whereby I could board the overly loaded 6.00 o'clock train and at least get to the city by 7.00 o'clock. The evening hours also carried with them a package that was frustrating to the borne, with a survival for the fittest policy being implemented. Truth be told, we finally heaved a collective sigh of relief at the construction of the Thika Highway. Thanks to Kenya –China relations!
That said, the friendship and mutual understanding between the people of China and Kenya should take the next level. Allow me to point out that with the help of Kenya – China Economic and Trade Association and Kenya Overseas China Association, we can approach the problem of infant industries by implementing a policy of import substitution industrialization. But quick to handcuff some naughty entrepreneurs who may plan to exploit this set up by engaging in non-competitive and substandard production, overcharging consumers and failing to innovate and expand.
I pause to visualize that the problem of our domestic industries is three pronged; that is to say, cost of transport, energy and capital. Relying on road transport and not railway or maritime transport is a recipe for making sure that the factor inputs for a manufacturer will always be higher in Kenya than in China. But do I say? China has to chip in anyway. There is an African proverb that says, if you want to go quickly, go alone. If you want to go far, go together .We all need to go far, quickly.
As we strengthen the relations between Kenya and China, my opinion is that, Kenya needs to borrow something from China. In my view, I see China as a unique country in many respects, which I may not be able to note here for fear that it might take a lifetime. Rather, it has special relations with Kenya. It has been, and still is a safe haven for many Kenyans when need be.
Today, the country continues to help nurture the deepening of the culture of constitutional democracy in Kenya. While still contemplating on how productive China has been in its performance, I keenly spot what makes it tick. There is this amazing air of humility, simplicity and contentment around the China people that is just so humbling and inspiring in equal measure. I will pen down to let you do your research.
Guess I am up with my China story. In closing, I must say I'm least concerned about the next chapter in the Kenya – China relations, because it's not just a good venture, but it is also an initiative that will shine bright whenever fate lands it. I however believe that circumstances change and people must constantly change and re-invent themselves to fit into changed circumstances. However stubborn we may be, we must embrace change. In my view, such relations are the substratum of this universe - the space in which all good things happen.
It's been an honor and privilege to interact with China. I wish the Kenya – China Economic and Trade Association together with The Kenya-overseas Chinese Association only what they wish for themselves.