Standard Bank plays key role in finance and growth
Updated: 2012-02-29 08:04
(China Daily)
| | | | | | | | | | | |
| --- | --- | --- | --- | --- | --- | --- | --- | --- | --- | --- |
|   | | Comments() | | Print | | Mail | | Large Medium  Small | 分享按钮 | 0 |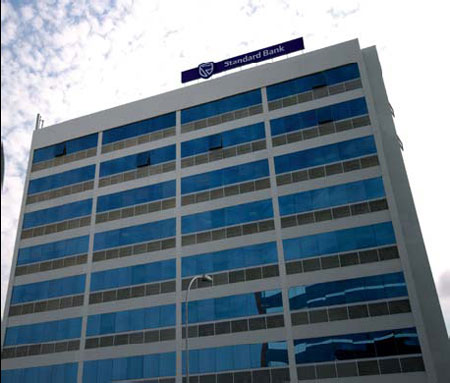 Standard Bank's headquarters in Luanda, capital of Angola.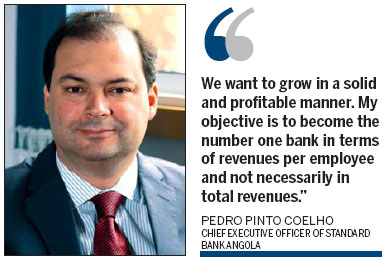 After more than one year of launching operations in Angola; Standard Bank, based in South Africa, has strengthened the domestic commercial banking sector by emphasizing growth through services to corporate clients in the energy sector.
With over $200 billion in total assets and a portfolio that spans across the continent, Standard Bank is the biggest bank in Africa and the largest to enter the Angolan market.
Its national banking license was approved in November 2009 and Standard Bank opened up in September 2010. "We decided Angola would be a key market for us since it has a promising economy with much growth potential," said chief executive officer of Standard Bank Angola, Pedro Pinto Coelho.
"We want to grow in a solid and profitable manner. My objective is to become the number one bank in terms of revenue per employee and not necessarily in total revenues," he said.
Furthermore, according to Standard Bank Africa's Johannesburg-based management, the move into Angola was extremely important because it offered many exciting opportunities in a number of crucial industries, including oil and gas, mining, agriculture and general commerce.
Angola is sub-Saharan Africa's second largest oil producer, and it is a country rich in mineral resources. It is also the world's fifth-biggest diamond producer and has the third-largest economy in sub-Saharan Africa. Therefore, it is no surprise that Standard Bank Group plays a role in this growing economy and emerging market.
Their Angolan banking operations focus on quality for corporate clients and their needs in cross-border transactions, which mainly derive from oil revenues. The bank benefits from a strong presence on the continent that constitutes a bridge for the investment community of the emerging markets.
"As the country attracts more international investments, we can bridge the gap and advise companies on what it takes to do business in Angola. I believe we are well positioned," said Coelho, who has accumulated almost 20 years of banking experiences in London, Lisbon and So Paulo.
Standard Bank plays a significant role in advising global investors by offering a wide range of corporate and investment banking services, as well as personal and business banking, while it is outfitted with a Chinese Desk in Luanda.
The Industrial and Commercial Bank of China holds a 20 percent stake in Standard Bank, which warrants a strong foothold for corporate financing of Chinese companies that are involved with overseas activities across the energy and mining sectors of Angola.
"It is obvious we are going to have a lot of business in Angola, since the nation is one of the largest oil producers channeling their productions to China. We are working with the government where Chinese companies or the Chinese government could support the Angolan government in large scale infrastructure projects," Coelho said.
Local analysts maintain an in-depth understanding of local market conditions along with the experiences in the emerging markets to develop safe, customized financing solutions backed by a global network of experts and world-class risk and capital management systems for Portuguese, Brazilian and Chinese investors.
"Standard Bank will benefit from what we learned abroad and the interactions we already have with these companies," Coelho said.
Amid better political ties with South Africa and Angola, the lender can build on its client confidence and reduce risks that give it a competitive edge in the consolidation of the domestic financial services sector.
Less than 15 percent of the 16.5 million population of Angola is estimated to have access to banking services, which may hamper growth in the financial sector, but the overall economy is projected to enjoy a double-digit GDP growth rate in 2012.
"While it is true the financial services sector is large, it is concentrated on a number of companies" Coelho said, adding that he foresees future growth in retail banking that goes in line with GDP growth. "Angola could have one of the highest GDPs in Africa in the near future."
It has taken 10 years for private banks to flourish in the economy which was devastated by nearly 30 years of civil war, Coelho said. He added, "growth has been amazing because there was virtually nothing and now we are seeing great results. The key aspect to strengthen the financial system and increase its size of payments has been made by oil companies through the local financial system."
Standard Bank Angola is one of the 17 subsidiaries of a Johannesburg-based banking group that has been independently ranked the most valuable banking group in Africa.
In 2011, Standard Bank was ranked among the 500 top banking brands globally for the second consecutive year. It is valued at almost $2.2 billion.
The bank is now well integrated into the financial fabric of the Angolan market, with system links to other banks in the country and to Angola's Central Bank.
As part of Standard Bank Group, it connects customers to the rest of Africa and international financial markets. Standard Bank is one of 20 banks operating in the nation, which means Angola's banking sector is competitive.
To maintain their position and status, the bank's Angolan team combines their understanding of local market conditions with expertise in the world's emerging markets to develop client-focused solutions customized to each client's particular requirements.
They leverage Standard Bank's extensive presence across Africa and internationally to create cross-border solutions supported by their global network of experts as well as world-class risk and capital management systems. As a leader in commodity-related financial services, they are positioned to realize significant value from the nation's energy and mining sectors and to meet their clients' requirements in trade and financing.
The bank is readying itself for a resurgent Angolan economy, the economic growth of which is predicted to return to double-digit figures in 2012.
Leaders at the bank's branches in China have recognized that the time for Africa is now, and they say the group has taken the correct course in Africa so far. "The Year of the Dragon is Africa's time," said George Fang, Standard Bank Group's managing director and head of Mining and Metals in China.
Standard Bank Angola plans further expansion this year, Standard Bank Angola executive Pedro Pinto Coelho said.
"So far this year, after only opening 16 months ago, we have already opened six branches. We have five in Luanda and one in Lubango. Our aim is to hopefully reach the goal of having 20 branches open by the end of this year. We will then go even further and open in cities like Huambo, Lobito, Cabinda and Soyo due to the importance of being present for customers in the oil industry," he said.
The bank will double the size of its Angolan staff of 160 employees if the expansion proceeds as planned.
New law brings rewards
On Nov 10 last year, Angola's parliament approved a draft law on the foreign exchange regime. This new law is designed to consolidate a number of existing financial rules into one single law, and one requirement of this new act is that all foreign oil companies operating in Angola must now pay taxes and other transactions in dollars through Angola's banking system.
Thanks to increased confidence in the country's banking sector, this new act is expected to boost the country's foreign exchange reserves. It will also give the nation's banks an important role to play because payments could reach up to $1 billion a month, so there will be more resources flowing into the financial system. This will increase the availability of cash among retail banks, allowing them to fund the local economy.
The new law will be phased in to allow operators and Angolan banks to adjust, but Standard Bank is ready and sees this new law as an opportunity.
"This is another aspect of our growth plans," said Coelho. "This law includes all banks present in Angola, so all payments will be made through the local system. (Standard Bank is) certainly one of the banks that are already well placed to provide the service. This is where we can show off our expertise and why we have invested heavily in our oil and gas (department)."
Standard Bank's oil and gas department tailors "products and services to the client's needs", Coelho said.
"We are known to be fast and very reliable," he added.
Importance of China
Standard Bank Angola also has a Chinese division because Coelho strongly believes in the opportunities Angola and China can offer each other.
"At Standard Bank, we believe that there is a continuing interest in increasing and deepening the relationship between the two countries. We have seen that the government here is keen on promoting additional projects with Chinese partners, and we will assist in whatever way we can in the finance structuring for these projects. We have the ability to do this because of our partners and our local office in Beijing," he said.
In addition to the increasing number of large Chinese companies supported by the government already operating in Angola, there is also an increasing number of small and medium-sized firms gaining a foothold in the African nation. Standard Bank aims to help and support the establishment of these Chinese companies in Angola.
"We will see more and more local legal entities with Chinese origins, and they are not only here to do business with the large Chinese companies but they are branching out to offer services to Angolans. At Standard Bank, we can support these companies to help them finance and drive their businesses forward. We are starting to see a lot of demand from this side, and it is going to be an interesting aspect of our future," said Coelho.
After only one year of operating in Angola, Standard Bank was given the prestigious award of Deal of the Year by the specialized trade finance magazine GTR.
"They gave us the award because it was the first line of credit done here in renminbi between an Angolan company and a Chinese exporter. This shows our specialization, technical knowledge and ability to focus on Chinese companies," he said.
This is where the bank's Chinese division plays a key role. It is headed by two Chinese employees who deal directly with Chinese clients. Standard Bank has also taken a lead in managing pre-export financing for Sonangol, a State-owned company that oversees petroleum and natural gas production in Angola, and was involved in transactions for other local banks.
"We have a number of transactions that will be made public this year. This is all proof that our local presence and global reach means we can do what other banks can't," he said.
(China Daily 02/29/2012 page25)