Building a global partnership
Updated: 2012-02-29 08:05
(China Daily)
| | | | | | | | | | | |
| --- | --- | --- | --- | --- | --- | --- | --- | --- | --- | --- |
|   | | Comments() | | Print | | Mail | | Large Medium  Small | 分享按钮 | 0 |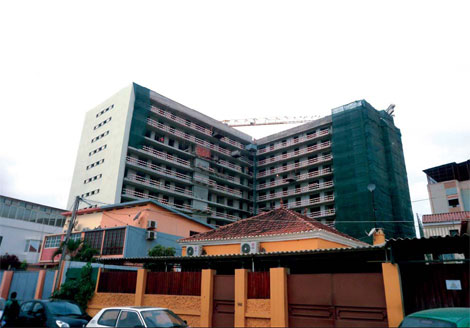 One of Edifer's buildings in Luanda, capital city of Angola. Photos provided to China Daily
Gema and Edifer are working together to develop the provinces on a strategic level
Last July Grupo Gema and Edifer, a Portuguese construction group, signed an agreement to strengthen their strategic cooperation to develop infrastructure projects in Angola.
The two companies started the partnership in 2006. The agreement shows that both companies see better opportunities to continue on with greater growth in the Angolan market.
Gema, already active in Angola, sees the deals as a chance to spread the economic and technical risks while increasing its capacity. The management team of Edifer explained that Angola has always been a fundamental part of the international strategy of the company and the new agreement has been just a natural progression.
Both Edifer and Grupo Gema each own a 50 percent stake in Edifer Angola and the deal includes shared ownership of other subsidiaries: Fortaleza Construes, Tecnasol Angola and Edimetal. Beforehand, they both owned different stakes of the subsidiaries independently.
Last year Edifer Angola held an order portfolio worth nearly $600 million and continued to post year on year growth.
Nonetheless before the new partnership was signed last year, the company, even just two years ago, was capturing a 35 percent increase in turnover and net profits worth more than $20 million.
Edifer and Gema have each invested $100 million in these subsidiaries and expect to prove they made some smart investments.
As Antnio Gomes Furtado, chairman of Edifer Angola, said, "this was a good agreement and a win-win situation for all of us."
The chairman pointed out that the new agreement will allow more local training in skilled jobs and slowly the number of locals employed in these occupations will increase. Furtado hopes to "Angolanize" the company. Although Edifer Angola values its expatriate workforce and acknowledges their contribution to the company, it is expensive and difficult to obtain visas. Therefore Furtado is placing an emphasis on training Angolan workers.
Edifer should be considered an Angolan company, making them one of the first private sector construction companies in a marketplace that was previously dominated by state-run enterprises.
Edifer Angola intends to become one of the partners of the government in the planned construction of 1 million social housing units.
However, Chairman Furtado clarified that Edifer must still go through the legal process of bidding and making tenders to win contracts.
"We must bid for the tenders and we must be aggressive in pricing to prove we can offer better quality for a lower price," he said.
Furtado had formerly been a director at the state Treasury and enjoyed a distinguished career as the vice-minister of Finance.
Having held high government positions, Furtado has developed a more holistic view of the country. He does not want his company to become too centered on Luanda-based investments. He recognizes the need for investing in the provinces to drive economic development outside of Luanda.
"It makes sense for us to look outside the capital," said Furtado and he added, "especially when we see fantastic business opportunities across the country."
Taking social responsibility seriously
Edifer Angola wants to participate in tenders for projects in Huambo, Cuanza Norte, Huila, Benguela and in Cabinda. The process of branching out into other areas gives the company an opportunity to make a positive difference. "We have a responsibility to make money, and a responsibility to do something good for these communities," Furtado said.
He does not take it lightly and Edifer Angola is well recognized as a corporate do-gooder. It has worked closely with the central and provincial government agencies to build parks, hospitals and schools.
Given the economic slowdown that struck the construction sector due to decreasing domestic oil revenues, Furtado believes the worse is over and expects a better macro-economic environment in 2012.
He remains grateful for the Chinese involvement in Angola. "The Chinese government was the first country to make credit lines available to my country and this has since led to a serious and respectful relationship," he said.
Furtado holds the same respect for Chinese companies. Historically, Edifer Angola has only worked on small-scale projects with Chinese companies, but he would be very open to engaging in bigger and better partnerships in the future.
China Daily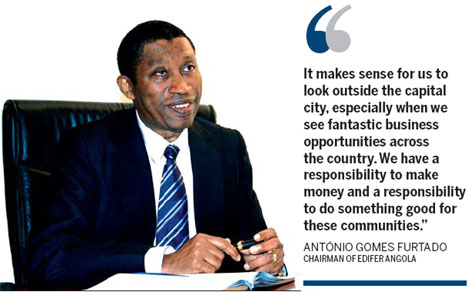 (China Daily 02/29/2012 page36)
Hot Topics
Wu Ying, iPad, Jeremy Lin, Valentine's Day, Real Name, Whitney Houston, Syria,Iranian issue, Sanyan tourism, Giving birth in Hong Kong, Cadmium spill, housing policy