China helps Angola's GDP bounce back
Updated: 2012-02-29 08:04
(China Daily)
| | | | | | | | | | | |
| --- | --- | --- | --- | --- | --- | --- | --- | --- | --- | --- |
|   | | Comments() | | Print | | Mail | | Large Medium  Small | 分享按钮 | 0 |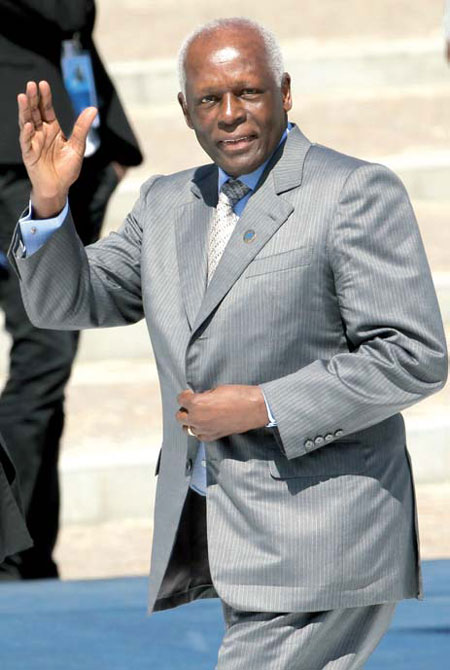 Angolan President Jos Eduardo dos Santos Photos Provided to China Daily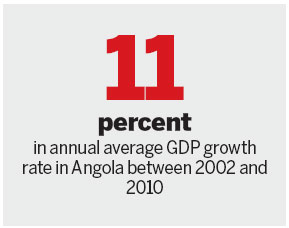 Country aims for economic growth, ups social spending
Angola has become a shining example of how a country can transform itself. From 2002 to 2010, it boasted an annual GDP growth rate of 11 percent, the highest in the world. Its growth has brought improvements to living standards as well as greater investments in infrastructure and interest from international investors.
In an address celebrating 10 years of peace, the president of Angola recently said, "It is understandable that we all have the desire to change our lives for the better."
When the global financial crisis began to break out in late 2007, Angola's economy, driven by oil and mineral exports, took a hit from falling commodity prices. After reaching the dizzying heights of consistent double-digit growth only a few years prior, the estimated GDP growth for 2011 fell to only 3.4 percent.
With the economy still very much dependent on oil revenue, the country remains vulnerable to fluctuations in the price of oil in the international markets. However, oil output is expected to grow to 1.84 million barrels a day in 2012, so the economy is expected to return to double-digit growth. Analysts are suggesting that Angola's GDP growth could reach 12 percent by the end of 2012.
Thanks to a planned increase in oil output in the government's draft budget approved by parliament last November, officials are anticipating a better year ahead both in terms of revenue and social spending.
"Compared with the budgets of the last three years, this budget proposal assumes a more promising scenario for the national economy," Finance Minister Carlos Alberto Lopes told parliament.
As national reconstruction projects continue to get off the ground across the country, the banking sector is also expanding to keep up with demand. The national banking sector received a boost last year when a law was passed ensuring that oil companies use national banks. There also remains vast potential for growth in retail banking because only 13 percent of Angolans currently have access to banking services.
Taking heed of this economic potential, China's ministries of finance and trade were the first in the world to sign financing packages for public investment projects in Angola in 2004. These initial lines of credit came in the form of oil-backed loans from Chinese banks.
It was not long before Angola became China's largest African trading partner and by 2009, only five years after China's first loans went to Angola, almost 40 percent of Angola's crude exports were heading for China, accounting for nearly 16 percent of China's total oil imports. Angola suddenly became one of China's most important sources of oil.
Despite criticism that the arrangement favors China, the relationship is fast maturing.
The relationship was certainly mutually beneficial and it is becoming even more so. The number of private Chinese investors is growing and not only among the big internationally minded Chinese companies. Micro-entrepreneurs and small business operators with Chinese backing are also looking at Angola. Direct flights between the two countries have also been established as both nations look ahead to a growth in trade and interest in one another.
In November 2011, yet another high-level visit took place between the two governments. Chinese Vice-President Xi Jinping and Angolan Minister of State Carlos Maria Feij met in Beijing, where China pledged to work more closely with Angola and to seek an even stronger strategic partnership.
"China would like to work with Angola to deepen pragmatic cooperation in all fields, communicate and coordinate on multilateral issues, and to flesh out the strategic partnership," Xi said.
This statement was further proof that the Chinese-Angolan relationship is reaching new levels of trust and mutual benefit. After Brazil, Angola is China's second-largest Portuguese-speaking trade partner out of eight countries.
Given that the trade relationship between the two countries is relatively young, Angola has done well to have such a large piece of the pie. It now exports goods worth more than $20 billion to China and this figure is set to grow in 2012.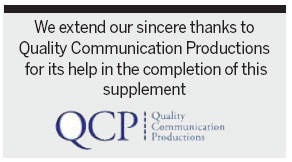 (China Daily 02/29/2012 page25)