F-35 makes headway amid criticism
Updated: 2011-11-26 11:02
(Agencies)
| | | | | | | | | | | |
| --- | --- | --- | --- | --- | --- | --- | --- | --- | --- | --- |
|   | | Comments() | | Print | | Mail | | Large Medium  Small | 分享按钮 | 0 |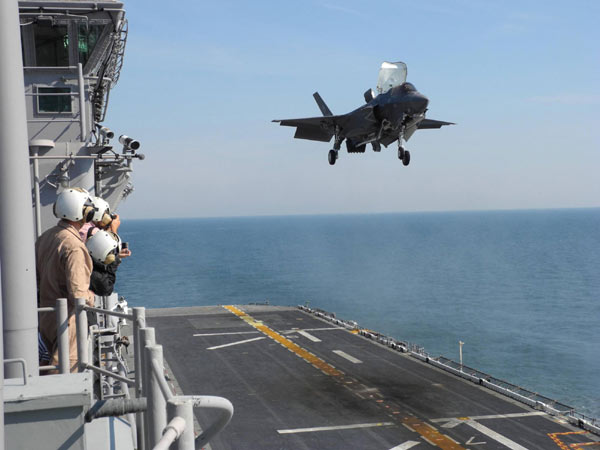 A F-35 fighter jet performs a vertical landing on the USS Wasp during sea trials off the coast of Virginia, Oct 18, 2011. [Photo/Agencies]
ABOARD THE USS WASP - The 16-ton fighter jet slowed to a stop off the warship's port beam, where it hovered like a floating rock as thousands of pounds of thrust from its engine and lift fan stirred up a cloud of mist from the Atlantic Ocean 100 feet below.
After a brief hesitation, the sleek, new gray airplane - a Marine Corps version of the radar-evading F-35 Joint Strike Fighter - slipped quickly sideways over the amphibious assault ship and then dropped to the flight deck with a gentle bump.
"It's just an incredible feeling to have that kind of precision control over that kind of power," Lieutenant Colonel Matt Kelly, a test pilot, said after watching a fellow flier land the jet during recent sea trials of the warplane. "It's a pilot's airplane to fly. It does what the pilot wants it to do."
The smooth test performance contrasts with the rough ride the F-35 development program has had, thanks to cost overruns and production delays, since it first began to take shape more than a decade ago in the secretive advanced projects labs at the Pentagon and Lockheed Martin.
Critics say the F-35, which comes in three variants, is an ill-conceived multipurpose aircraft that tries to do too many things and will ultimately excel at none. Its stealthy fuselage and high-tech systems, some say, are so complex to build and maintain they will inevitably make it unaffordable.
But advocates view the aircraft as a war-fighting platform for the networked, iPad generation that will revolutionize the way America fights.
"This airplane will give the United States and its allies tremendous capability for years and years, decades and decades to come," said Alan Norman, Lockheed's chief test pilot for the jet. "It gives us that quantum leap in capability that allows the pilot to really think about and dictate what he wants to do in the airspace."
First, however, it must survive budget cuts in Washington. Because the United States is trillions of dollars in debt, Congress has already ordered $450 billion in defense budget reductions over the next decade and may demand more as it tries to pare another $1.2 trillion in projected federal spending over 10 years.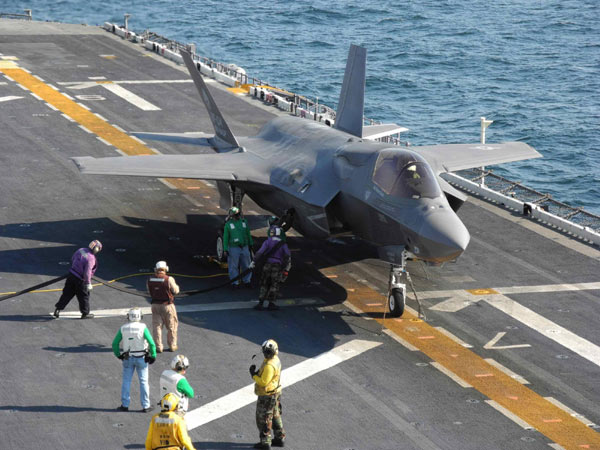 A F-35 fighter jet refuels between missions aboard the USS Wasp off the coast of Virginia during sea trials, Oct 18, 2011. [Photo/Agencies]
The failure this month of Congress' "super committee" to reach a deficit-cutting deal could trigger automatic budget reductions beginning in January 2013, including an additional $650 billion of security spending. Defense Secretary Leon Panetta has issued dire warnings about such reductions.
The F-35, the Pentagon's costliest weapons program at $382 billion, is a logical place to look for savings, especially since it started as a program to build an affordable jet but has ballooned in cost almost from its inception.
The Marine Corps version of the aircraft tested on the USS Wasp is under threat of cancellation, and the Air Force and Navy, which have their own variants, may have to scale back the number of planes they purchase in an effort to economize.
Lockheed officials privately concede the United States may not buy all 2,447 jets currently planned.
"Clearly it's on probation, even in the minds of top Pentagon officials because of the technological hurdles that it hasn't cleared and the spiraling costs of the program," said Chris Hellman, research director at the National Priorities Project, a left-leaning nonpartisan think tank.
"At a moment in time where ... they're going to have to come up with some substantial savings in their budget," he said, "it's sort of a prime target for deficit reduction."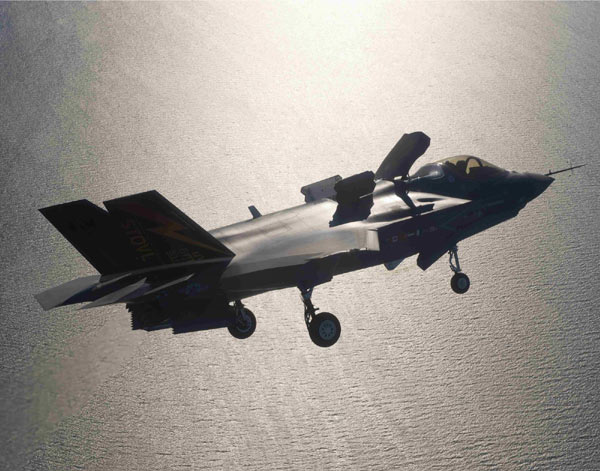 A F-35 fighter jet prepares for landing with its life fan cover deployed over Patuxent River Naval Air Station, Maryland in this undated handout image. [Photo/Agencies]