Italy govt shell-shocked by bishop's attack
Updated: 2011-09-28 11:16
(Agencies)
| | | | | | | | | | | |
| --- | --- | --- | --- | --- | --- | --- | --- | --- | --- | --- |
|   | | Comments() | | Print | | Mail | | Large Medium  Small | 分享按钮 | 0 |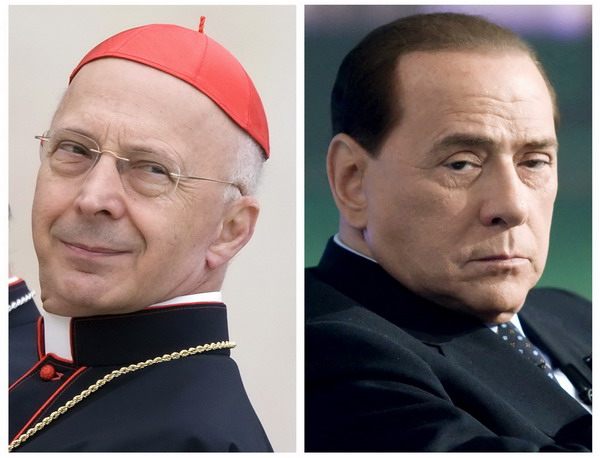 A combination of file photos shows Italian Bishops Conference head Cardinal Angelo Bagnasco (L) at the Vatican April 1, 2009 and Italy's Prime Minister Silvio Berlusconi in Rome May 5, 2009. Italy's powerful Catholic Church issued a blistering attack on the ruling political class on September 26, 2011, saying the country needed to "purify the air" caused by sex and corruption scandals that have given it a bad name around the world. A speech by Bagnasco to fellow bishops stopped just short of asking for the resignation of Prime Minister Silvio Berlusconi, who is battling scandals over parties with prostitutes and corruption. While Bagnasco, the head of the Italian Bishops Conference, did not specifically name the prime minister, he left little doubt he was referring to scandals that have touched Berlusconi and his centre-right government. [Photo/Agencies] 
ROME - Prime Minister Silvio Berlusconi's centre-right government appeared to be in a state of denial and shell-shock on Tuesday after Italy's top Roman Catholic bishop issued a blistering attack against the country's rulers.
Political sources said Berlusconi was left "stunned and saddened" by a speech on Monday by Cardinal Angelo Bagnasco, who said Italy needed to "purify the air" contaminated by licentious behaviour, scandal and corruption.
Bagnasco, who stopped just short of asking Berlusconi to resign, painted a damning picture of a ruling class that was more concerned with its survival than the good of the people.
"Everyone knew the blow was coming but no-one expected it to be so brutally clear," said Alberto Bobbio, a writer for Italy's influential Catholic weekly, Famiglia Cristiana (Christian Family).
The Church, which once saw Berlusconi as a bulwark against the left, was the latest institution to pull the plug on the embattled prime minister.
In recent weeks Berlusconi has faced damning criticism and more or less open calls to resign from pillars of the Italian establishment including employers group Confindustria, the head of auto giant Fiat and newspapers including Corriere della Sera, Italy's most authoritative daily."
"It's one more nail in the coffin," said James Walston, political science professor at the American University of Rome. "When and if Berlusconi stands for office again, the bishops' message is clear: don't vote for him".
The speech by Bagnasco, president of the country's bishops conference, was splashed on the front pages of all Italian newspapers on Tuesday with unequivocal headlines such as that in La Stampa: "The bishops stick it to Berlusconi".
Governmment silent
Nearly 24 hours later, neither Berlusconi nor his office - both of whom are usually quick and combative in responding to attacks - had said anything official.
Some of Berlusconi's ministers and undersecretaries accused the opposition of exploiting the cardinal's words, saying they could be applied to all politicians.
But while Bagnasco did not mention the prime minister specifically, the prelate left no doubt he was referring to the sex and corruption scandals that continue to dog Berlusconi and his centre-right government.
A Church source familiar with the behind-the-scenes events that led up to the speech said Bagnasco got the green light from the Vatican after a long period in which Church officials had hoped Berlusconi would apologise, repent or step aside.
"There were a lot of people in the Vatican sitting on the fence as far as Berlusconi is concerned but the latest revelations were just too much and the Church leaders finally realised that ordinary Catholics were disgusted and wanted their leaders to say something strong," the source said.
The Vatican and the Italian Catholic Church had been hesitant in their criticism of the centre-right, fearing that a leftist government could back measures it opposes, such as gay marriage and embryonic stem-stell research.
Berlusconi was already facing four separate trials on corruption and charges of paying for sex with a minor. But this month he was engulfed by a new sex scandal just as financial troubles have raised fears that the Italian economy could suffer a Greek-style debt crisis.
Wire-tapped conversations published by Italian newspapers quoted him as boasting of "doing eight girls" in one night and organising trysts with prostitutes at his private residences.
He was also quoted as saying that, with all his sexual activity, he was only prime minister "in my spare time".       
"It is mortifying to witness behaviour that not only goes counter to public decorum but is intrinsically sad and hollow," Bagnasco said in his speech.
While the Catholic Church no longer enjoys the direct political clout it had years ago when the country's largest party was the now-defunct Christian Democrats, it still is one of the most influential forces in Italian society.
Political commentators said the bishops' decision to criticise the prime minister signalled the end of an uneasy alliance that started with high hopes that the Church had a friend in power who would promote family and traditional values.
"In the mind of the Italian Bishops Conference, which has its ear close to the ground regarding public opinion, Berlusconi is history," said political commentator Massimo Franco in the Corriere della Sera newspaper.
Walston said what really riled the Church and the Vatican was Berlusconi's boasting about his sexual prowess and his virulent attacks on his political enemies.
"It was all just too obvious. As far as the Church is concerned, if you are in public life you can do almost anything as long as you do it discreetly. And we all know Berlusconi is not discreet," Walston said.