Italian aircraft carrier Giuseppe Garibaldi and Cavour
Updated: 2011-07-18 14:03
(Agencies)
| | | | | | | | | | | |
| --- | --- | --- | --- | --- | --- | --- | --- | --- | --- | --- |
|   | | Comments() | | Print | | Mail | | Large Medium  Small | 分享按钮 | 0 |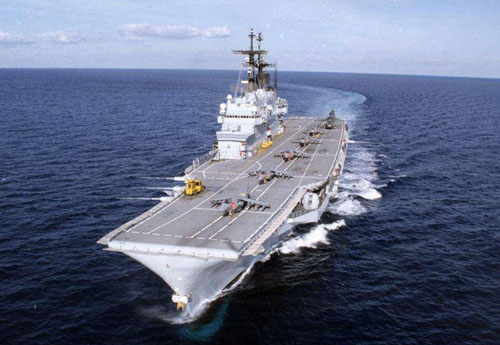 Italian aircraft carrier Giuseppe Garibaldi [File photo] 
Aircraft carrier Giuseppe Garibaldi
Giuseppe Garibaldi (551) is an Italian aircraft carrier. She is the fourth ship of the Italian Navy to be named after the 19th century Italian General Giuseppe Garibaldi. All the five ships included the missile cruiser, together with an image of Garibaldi, are depicted in the crest.
Built by Fincantieri (Italcantieri) at the Monfalcone shipyards in the Gulf of Trieste, she was laid down in March 1981, launched in 1983 and commissioned on 30 September 1985. Garibaldi is classed as a CVS–ASW or Anti-Submarine Warfare Aircraft Carrier and is based in Taranto.
The ship is powered by four Fiat COGAG gas turbines built under license from GE, offering a sustained power of 81,000 hp (60 MW). Driving two shafts the ship has a maximum speed of 30 knots (56 km/h) and can travel for 7,000 nautical miles (13,000 km) at around 20 knots (37 km/h).
The ship was equipped with four Otomat Mk2 long range surface to surface missile system installed at the stern of the ship (removed in 2003 to improve the flight deck and satellite communications) and two ILAS three triple tube torpedo launchers. Defences are provided by two eight-cell SAM launchers firing the SARH Aspide missile, additional defences are offered by three Oto Melara Twin 40L70 DARDO CIWS.
The ship also has many countermeasures include two SCLAR twenty-barrel launchers for chaff, decoy, flares, or jammers, the SLQ-25 Nixie and SLAT anti-torpedo systems and ECM systems.
Her air-arm consists of either a maximum sixteen AV-8B Harrier IIs, or eighteen Agusta helicopters or a mix of helicopters and fighters. The flight-deck is the characteristic off-axis design with 4 degrees ski-jump for STOL aircraft, it is 174 m long and 30.4 m wide.
The WWII peace treaty banned Italy from having an aircraft carrier, and therefore at the time of her launch she did not receive her Harriers and classed as Incrociatore portaeromobili (Italian for Aircraft carrying cruiser). Until 1988 only Italian helicopters landed on her deck, as well as RN Sea Harriers during NATO joint maneuvers. The ban was eventually lifted and in 1989 the Italian Navy obtained fixed wing aircraft to operate from Garibaldi.
In 2009 Garibaldi has been joined as the flagship of the Italian navy by the new and larger carrier Cavour.
Participating in the 2011 military intervention in Libya after the transfer of authority to NATO and the decision to participate in strike air-ground operations, the Italian government assigned under NATO command four Italian Navy AV-8B plus (from Garibaldi) in addition to Italian air force aircraft. As of 24 March, the Italian Navy is engaged in Operation Unified Protector with the light aircraft carrier Garibaldi, the Maestrale-class frigate Libeccio and the Etna-class auxiliary ship Etna. Additionally the Horizon-class frigate Andrea Doria and Maestrale-class frigate Euro are patrolling off the Sicilian coast in an air-defence role.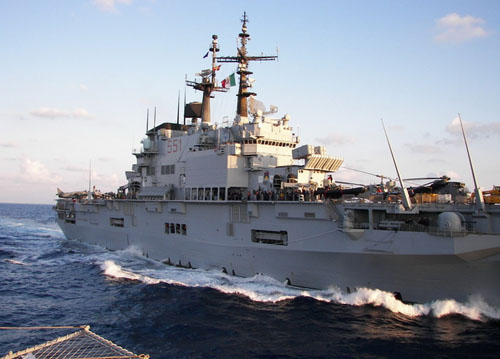 Italian aircraft carrier Giuseppe Garibaldi [File photo]