Murdoch flies to UK as paper dies, scandal lives
Updated: 2011-07-11 14:01
(Agencies)
| | | | | | | | | | | |
| --- | --- | --- | --- | --- | --- | --- | --- | --- | --- | --- |
|   | | Comments() | | Print | | Mail | | Large Medium  Small | 分享按钮 | 0 |
LONDON - Rupert Murdoch touched down in London on Sunday to take charge of his media empire's phone-hacking crisis as his best-selling Sunday tabloid, the News of the World, published its last. The scandal lives on despite his sacrifice of the 168-year-old paper at the heart of it.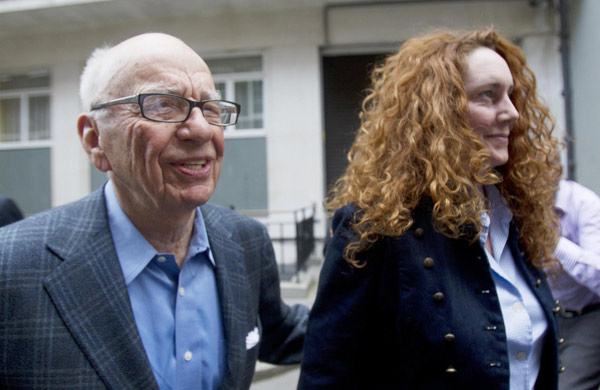 News Corporation CEO Rupert Murdoch leaves his flat with Rebekah Brooks, Chief Executive of News International, in central London July 10, 2011. [Photo/Agencies]
The scrapping of the News of the World has not tempered British anger over improprieties by journalists working for Murdoch, and his $19 billion deal to take full control of satellite broadcaster British Sky Broadcasting remains in jeopardy.
The 80-year-old News Corp CEO was seen reading the paper's last issue in a red Range Rover as he was driven to the east London offices of his UK newspaper division, News International. Later, at his London apartment, he met with News International's chief executive, Rebekah Brooks, who led News of the World when its reporters committed some of the most egregious ethical lapses.
Murdoch has publicly backed Brooks, who insists she had no knowledge of wrongdoing. He put his hand on her shoulder as they left the residence about an hour after she arrived; they smiled for the pack of photographers and camera crews gathered outside before walking to a nearby hotel for a meal.
The drama gripping media watchers in Britain and beyond has expanded at breakneck pace following allegations News of the World journalists paid police for information and hacked into the voicemails of young murder victims and the grieving families of dead soldiers. Three people have been arrested, including Prime Minister David Cameron's former communications chief.
In its last edition Sunday, the paper issued a full-page apology.
"We praised high standards, we demanded high standards but, as we are now only too painfully aware, for a period of a few years up to 2006 some who worked for us, or in our name, fell shamefully short of those standards," the editorial read. "Quite simply, we lost our way."
Some of the 200 journalists being laid off from News of the World appeared to sneak in their own message to Brooks, who kept her job.
Clues in one crossword puzzle included "Brook," "stink," "catastrophe" and "criminal enterprise." A second crossword contained the hints "string of recordings" and what many interpreted to be a direct jab at Brooks: "Woman stares wildly at calamity."
The answer to that clue? "Disaster."
The paper's demise does not end the questions surrounding Murdoch's media conglomerate, which has been hugely influential in British politics for years. Chief among them: What did Murdoch, Brooks and other executives know about the actions of News of the World journalists?
The Guardian newspaper reported Sunday that emails and memos from 2007 only recently turned over to police indicate News International was aware that phone hacking was more widespread than publicly acknowledged. The BBC reported that News International had found emails at the same time period that suggested payments were being made to police for information.
Closing down the News of the World was seen by some as a desperate attempt to stem negative fallout from the hacking scandal and thus save Murdoch's 12 billion-pound ($19 billion) to get full ownership of BSkyB, which he already holds a stake in. The British government has signaled that deal will be delayed because of the crisis.
Britain's opposition leader Ed Miliband warned that a Murdoch takeover of BSkyB should not be allowed while a phone-hacking investigation is ongoing, and he vowed to push for a parliamentary vote if Prime Minister David Cameron fails to act.
"When the public have seen the disgusting revelations that we have seen this week, the idea that this organization, which engaged in these terrible practices, should be allowed to take over BSkyB, to get that 100 percent stake, without the criminal investigation having been completed...frankly that just won't wash with the public," he told the BBC.
The scandal exploded this week after it was reported that News of the World had hacked the mobile phone of 13-year-old murder victim Milly Dowler in 2002 while her family and police were desperately searching for her. News of the World operatives reportedly deleted some messages from the phone's voicemail, giving the girl's parents false hope that she was still alive.