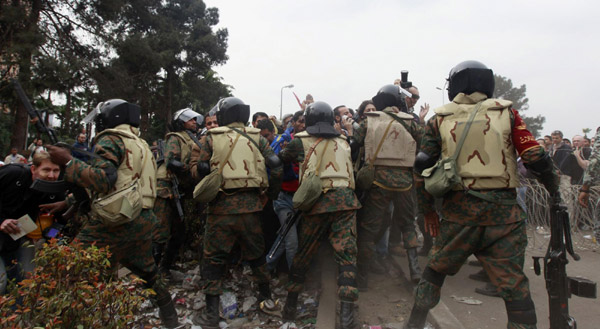 Army soldiers try to contain a huge crowd of opposition demonstrators attempting to enter their stronghold of Tahrir Square in Cairo February 5, 2011. [Photo/Agencies] 
CAIRO - Egypt's prominent opposition Muslim Brotherhood held dialogue with Vice President Omar Suleiman on Sunday, the first such meeting as the nationwide protests entered the 13th day, local media reported.
Related readings:


 Egypt's ruling party under restructuring


 US Military Chief Says Aid to Egypt Should Continue


 Saboteurs attack Egypt gas pipeline


 US, Egypt discuss Mubarak quitting - official
Spokesman for the Muslim Brotherhood Mohammed Morsy and Mohammed Saad El Katatny participated in the meeting, together with other opposition figures, such as Mohamed ElBaradei, state-run newspaper Al Ahram reported on its website.
The group, which had rejected the government's offer for talks, changed its mind after all the executive committee members of Egypt's ruling National Democratic Party, including President Hosni Mubarak's son Gamal Mubarak, resigned on Saturday.  
Meanwhile, representatives from the liberal Wafd party, the Tagammu party, as well as independent political and business figures also attended the meeting.
US supports dialogue
US Secretary of State Hillary Clinton on Saturday voiced support for talks between Suleiman and opposition groups while attending the 47th Munich Security Conference, saying the government's dialogue with the opposition must be given time to unfold.
"There are forces at work in any society, and particularly one that is facing these kinds of challenges, that will try to derail or overtake the process to pursue their own specific agenda... which is why I think it's important to support the transition process announced by the Egyptian government, actually headed by now Vice President Omar Suleiman," Clinton said.
"We have to send a consistent message supporting the orderly transition that has begun," Clinton said, placing renewed emphasis on the process of gradual change and the need for talks between the government and opposition groups to forge agreement on an orderly handover of power.
That marked a departure from President Barack Obama's tones. Obama has urged Mubarak to "make the right decision."
ElBaradei said on Saturday that it would be a "major setback" if the United States were to support either Mubarak or Suleiman to lead a transitional government to oversee change.