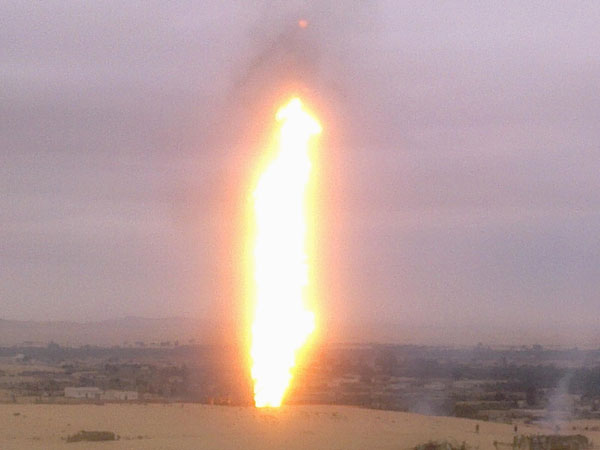 Flames are seen at the site of a pipeline blast in North Sinai February 5, 2011. [Photo/Agencies] 
CAIRO - Saboteurs blew up a gas pipeline, state television said on Saturday, adding fresh turmoil to Egypt during unprecedented protests to end the 30-year rule of President Hosni Mubarak.
State TV quoted an official as saying that the "situation is very dangerous and explosions were continuing from one spot to another" along the pipeline which runs through North Sinai.
"It is a big terrorist operation", a state TV reporter said.
A security source said the Egyptian army closed the main source of gas supplying the pipeline.
Another security source in North Sinai said it was the Jordanian branch of the pipeline, not the one leading to Israel, blaming the attack on "foreign elements".
Israel Radio said the Egypt-Israel pipeline was not damaged, but the supply stopped as a precaution.
The attack happened as demonstrations against Mubarak entered their 12th day, with no sign of an end to the confrontation which has pitted the 82-year-old leader against thousands of anti-government protesters.
Mubarak, who has pledged to step down in September, said on Thursday he believed Egypt would descend into chaos if he were to give in to protesters' demands that he quit immediately.
He has styled himself as a bulwark against Islamist militancy and essential actor in maintaining a peace treaty Egypt signed with Israel in 1979.
"Saboteurs took advantage of the security situation and blew up the gas pipeline," a state television correspondent said.