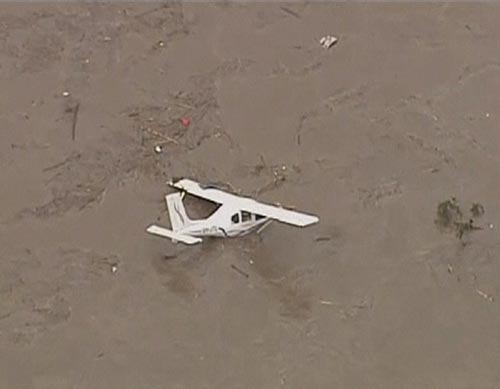 A plane is seen in floodwaters in Grantham, a township between Toowoomba and Brisbane, in this still image taken from video Jan 10, 2011. [Photo/Agencies]
Power company Energex has switched off power to some low-lying areas of Brisbane, including parts of the financial district, to protect life and property.
Bligh said the Brisbane River, which winds through the city centre, should peak at the high tide on Thursday around  mid-afternoon, with thousands of properties to be inundated before that time, but she appealed for calm.
"Right across this region, this river is creating chaos, terrifying people and causing damage already," she said.
Unmoored boats and large logs could be seen floating down the Brisbane River, which was swirling with flotsam as the sun broke through on Wednesday for what was expected to be a brief respite, allowing rescue helicopters to resume flying.
Some scenes in the city were surreal with early-morning joggers trying to carry on as normal, despite parts of the their routes being submerged.
Prime Minister Julia Gillard travelled to the city to inspect the devastation and said she was deeply concerned  about the impact of the flood on jobs.
"I have been shocked. I think we've all been shocked by  the images of that wall of water just wreaking such  devastation. The dimensions of it are truly mind-boggling," Gillard said.
"We will have to work through the long-term economic impacts for Queensland, and of course the huge infrastructure re-building task to come as floodwaters subside."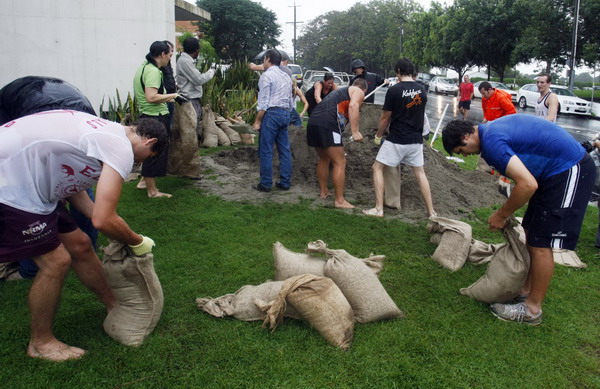 Residents fill sandbags outside a residential apartment building in the Brisbane suburb of West End Jan 11, 2011. [Photo/Agencies]