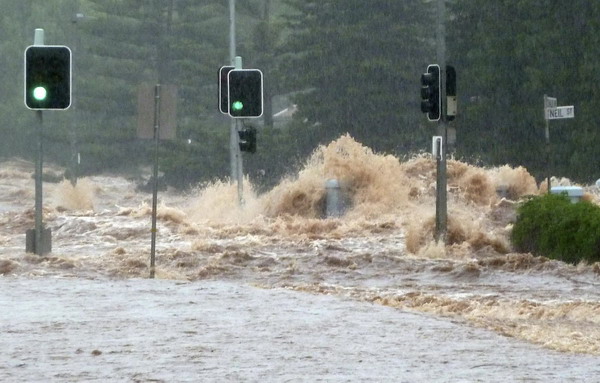 A flash flood sweeps across an intersection in Toowoomba, 105 km (65 miles) west of Brisbane, Jan 10, 2011. Tsunami-like flash floods raced towards Australia's third-largest city of Brisbane on Tuesday, prompting evacuations of its outskirts, flood warnings for the financial district and predictions that the death toll is likely to climb. [Photo/Agencies]
BRISBANE, Australia - Thousands of residents of Australia's third-largest city evacuated homes on  Wednesday as massive floods threatened to inundate the  financial district, sparked panic buying of food and left authorities despairing for more than 90 people missing.
Related readings:


1,700 trapped in Australia's New South Wales flood 


 Australia floods kill 8, toll to rise as 70 missing


Floods hit Australia's 3rd biggest city 
The biggest floods in decades have so far killed 14 people since starting their devastating march across the northern mining state of Queensland last month, crippling the coking coal industry, destroying infrastructure, sending the local currency to four-week lows and threatening to put a brake on the economy.
With a flood surge expected to peak in the Queensland  capital of Brisbane, a city of two million, on Thursday, search and rescue crews took advantage of rare sunshine on Wednesday to look for those still missing from tsunami-like flash floods that tore through townships west of the city this week.
"I think we're all going to be shocked by what they find in these towns that were hit by that tsunami yesterday," Queensland state Premier Anna Bligh told local television on Wednesday.
The worsening floods are forcing economists to raise  estimates of the economic impact, with one central bank board member quoted on Wednesday as saying the disaster could cost as much as 1 percent of economic growth -- equal to almost $13 billion, double the previous highest estimate.
In Brisbane, thousands of homes and businesses were inundated as swirling flood waters rose in and around the  riverside city, triggering residents to flee with few possessions to higher ground and evacuation centres.
City Mayor Campbell Newman said the number of homes expected to be hit by flooding had risen to 19,700, affecting up to 45,000 people, with the military now running relief  flights with helicopters and C-130 transports.
Dams built to protect communities are at bursting point.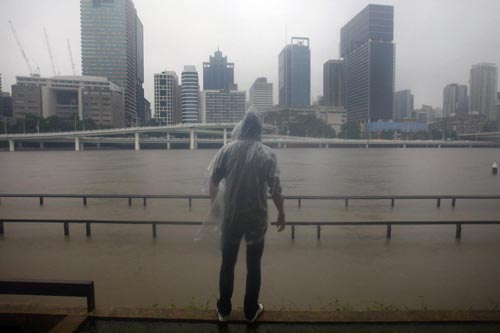 A man looks at the rising Brisbane River in central Brisbane Jan 11, 2011. Thousands of people were urged to leave the outskirts of Australia's third-largest city, Brisbane, on Tuesday as flood waters raced eastwards after a surging two-metre wall of water killed eight people overnight. [Photo/Agencies]