LONDON - Britain is confident of becoming a more attractive destination for Chinese investors, according to a business leader with British Prime Minister David Cameron's delegation to China.
Related readings:


 China-UK economic talks end with important agreements


 China, Britain pledge closer economic ties


 British prime minister to visit China


 PM's visit to Beijing to enhance Sino-UK ties

Richard Lambert, director-general of the Confederation of British Industry (CBI), the country's top business organization, said Chinese businessmen and women do not yet understand how open Britain is.
"I think it's really a question of understanding and shared knowledge," Lambert told China Daily before departing for Beijing. "We're the most open economy in the world No country welcomes foreign investors more than the United Kingdom."
The CBI chief, whose organization has 200,000 members, said his country has "competitive advantages", particularly in financial and professional services and creative industries.
"I'm sure the attractions of the UK will become greater to Chinese investors," he added.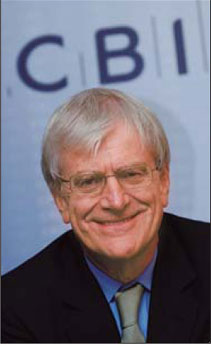 Richard Lambert, director-general of the Confederation of British Industry
Trade volume of goods between China and the UK was $35.75 billion form January to September this year, according to official figures. The total for 2009 was $39.1 billion.
Britain has invested $16.75 billion in China so far this year, the most for all 27 European Union (EU) member states. In comparison, investments from China in the UK have surpassed only $1 billion.
"We wish to build a good relationship with China," said Lambert when asked about Cameron's first visit to the country as prime minister. "The headline we're working under is 'Partners for Growth'."
Cameron is traveling with 50 British business and industrial leaders and four ministers: George Osborne, chancellor of the exchequer; business secretary Vince Cable; Chris Huhne, climate change and energy minister, and education secretary Michael Gove.
Lambert, who described the delegation as "strong", said China and Britain have already worked together on efforts to reduce carbon emissions and other projects and that "many British companies (already have) an excellent relationship with commercial partners in China".
Comparing the investment by China and India in the EU, Lambert said China invests heavily in Germany, while India is more focused on the UK.
Germany's strengths lie in manufacturing, while Britain is strong in services, he explained, adding: "China wishes clearly to build the quality and the strength of its services sector, whether it's financial or professional services."
China Daily