MEXICO CITY - Suspected drug hitmen shot dead 15 people at a car wash in western Mexico on Wednesday, the third massacre in just a few days, putting new pressure on President Felipe Calderon to stop the growing violence.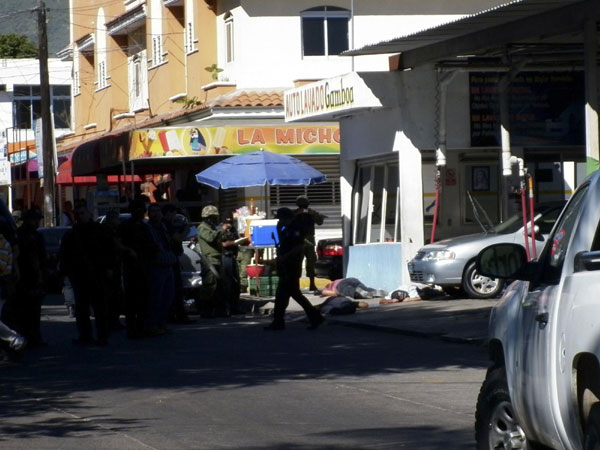 Soldiers stand near the bodies of four men after gunmen attacked a car wash in Tepic in Nayarit state, Oct 27, 2010. [Photo/Agencies]
The gunmen, in three SUVs, opened fire on staff and customers in the car wash on the outskirts of the city of Tepic in Nayarit state, provoking panic as the victims, all workers at the car wash, collapsed to the ground.
"The workers were all men; they were washing cars when the gunmen, probably members of organized crime, drove up in SUVs (sport utility vehicles) and started opening fire," said a spokeswoman at the Nayarit state attorney general's office.
Related readings:


 Mexican mayor found hacked to death


 Violence targets police, media in Mexico massacre


 Calderon: Violence price worth paying in drug war

 Mexico captures elusive drug kingpin 'The Barbie'
Photographs in local media showed bodies slumped on the roadside with pools of blood around their heads.
The multiple murder is the third since Friday when gunmen shot and killed 14 people and injured a 9-year-old boy at a party in Ciudad Juarez across from El Paso, Texas. On Sunday, gunmen in Tijuana killed 14 people at a rehabilitation center in the city bordering San Diego, California.
Almost 30,000 people have died in drug-related killings across Mexico over the past four years, worrying investors who long considered Mexico as a stable US ally, oil producer and one of the world's top 20 economies.
It was not immediately clear why the hitmen attacked the car wash workers, the state prosecutor's office said. It denied media reports that the victims were recovering drug addicts.
The massacres have put renewed pressure on Calderon, who has vowed to beat back the cartels but is struggling to defend his strategy as the death toll from his drug war surges.