REYNOSA, Mexico - A car explodes outside a police station, another outside a television station. A drug gang is suspected of massacring 72 migrants. A prosecutor investigating those deaths suddenly disappears.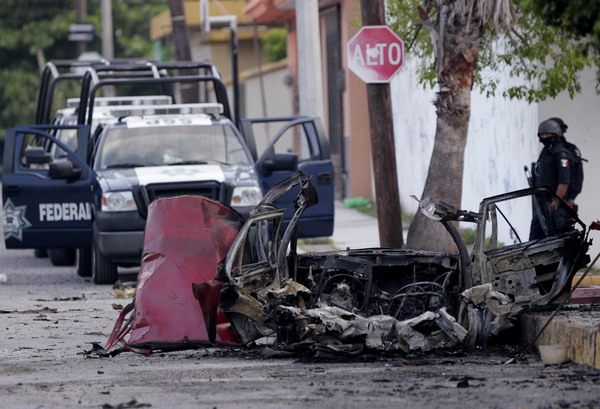 Mexican policemen stand guard next to remains of a parked vehicle outside a studio of top broadcaster Televisa in Ciudad Victoria, the Mexican state of Tamaulipas August 27, 2010. A car bomb exploded outside the TV studio early on Friday, but there were no injuries, Mexican media and witnesses said. [Agencies]
Mexico's drug cartels seem to be adopting the tactics of war zones half a world away.
Related readings:


 72 bodies found on Mexico ranch


 4 decapitated bodies hung from bridge in Mexico


 Body of kidnapped mayor dumped in northern Mexico


 Mexico: 28,000 killed in drug violence since 2006
The violence has contributed to fewer migrants crossing the border into the U.S., officials say, because they have to traverse some of Mexico's most dangerous territory to get to Texas. Mexican officials, meanwhile, warn there likely will be more bloodshed in the coming months.
"Violence will persist and even intensify," President Felipe Calderon said Friday at a forum on security where he vowed he would not back down.
The two car explosions happened early Friday morning less than 45 minutes apart in Ciudad Victoria, the capital of the northern state of Tamaulipas near where the slaughtered migrants were found.
The first exploded in front of the offices of the Televisa network and the second in front of transit police offices. There were no injuries, though both caused some damage to buildings, and the Televisa blast knocked out the network's signal for several hours.
The network described the explosion as a car bomb, but the state attorney general's office could not confirm that.
If the explosions were car bombs, it would mean a total of four so far this year in Mexico _ a new and frightening tactic that officials say the cartels are using in the escalating drug war.
The prosecutor, Roberto Jaime Suarez, disappeared Wednesday, a day after the 72 bodies were discovered at a ranch outside the northern town of San Fernando, officials said. A transit police officer in the cartel-dominated town was also missing.
No drug gangs claimed responsibility for the violence.
But the massacre's lone survivor, 18-year-old Luis Freddy Lala Pomavilla, said the killers identified themselves as Zetas, a group started by former Mexican army special forces soldiers and is now a lethal drug gang that has taken to extorting migrants.
Lala, who is recovering from a gunshot wound to the neck and is under heavy guard, told investigators the migrants from Central and South America were intercepted on a highway by five cars, according to his statement that The Associated Press had access to Friday.
More than 10 gunmen jumped out and identified themselves as Zetas, Lala said. They tied up the migrants and took them to the ranch, where they demanded the migrants work for the gang. When most refused, they were blindfolded, ordered to lie down and shot.
Lala's mother, who lives in the United States with her husband, said she spoke to her son Friday for the first time since the attack. She said she'd been trying to reach him since he didn't arrive at their home as scheduled.
"Every afternoon, I was buying phone cards to call the coyote (smuggler) and find out where my son is," she said. "I did nothing but call and call and call, and there was never an answer."
Then a Mexican hospital worker called and told them their son had been in "an accident."
The AP is not identifying the woman or her location because of potential danger.
Lala has been offered a humanitarian visa that would allow him to stay in Mexico, Immigration Commissioner Cecilia Romero said Friday. But his mother said he was pleading for her to help him get to the U.S.
Investigators have identified 31 of the dead migrants, whose bodies were taken to Reynosa, a city across the border from McAllen, Texas. Those identified include 14 Hondurans, 12 Salvadorans, four Guatemalans and one Brazilian.
The migrants were killed Sunday, Honduran Deputy Foreign Minister Alden Rivera said, citing a Mexican government report. The bodies were already decomposing when Mexican marines found them Tuesday, bound, blindfolded and slumped against a wall at the ranch outside San Fernando.