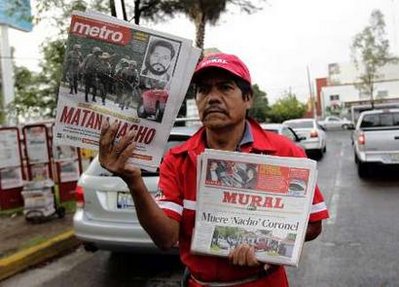 A newspaper vendor holds local newspapers with front page stories about the death of Ignacio "Nacho" Coronel, a major Mexican drug trafficker,in Guadalajara City July 30, 2010. [Agencies]
MEXICO CITY - More than 28,000 people have been killed in drug violence since President Felipe Calderon launched a crackdown against cartels in 2006, a government official said Tuesday.
Related readings:


 Troops kill senior 'capo' of mighty Mexico cartel


 Police find 8 human heads in northern Mexico


 4 journalists reported missing in northern Mexico


 51 bodies found at northern Mexico dumping ground
Intelligence agency director Guillermo Valdes also said authorities have confiscated about 84,000 weapons and made total cash seizures of $411 million in US currency and $26 million worth in pesos (330 million pesos).
Valdes released the statistics during a meeting with Calderon and representatives of business and civic groups. Attendees are exploring ways to improve Mexico's anti-drug strategy.
Drug violence in Mexico "is still growing," Valdes said.
The most recent official toll of the drug war dead came in mid-June, when the attorney general said 24,800 had died. He did not specify a time frame.
The government does not regularly break down murder statistics, but leading newspapers who kept their own counts say last month was the deadliest yet under Calderon: According to national daily Milenio, 1,234 were killed in July.
The Mexican government says most victims were involved in the drug trade.