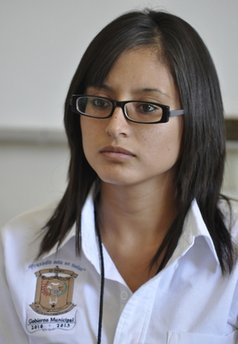 Twenty-year-old Marisol Valles Garcia listens to a question during a news conference after her swearing-in ceremony as the new police chief of the bordertown of Praxedis G. Guerrero, near Ciudad Juarez, Mexico, Wednesday, Oct. 20, 2010. [Photo/Agencies] 
PRAXEDIS G. GUERRERO, Mexico – There's a new police chief in this violent borderland where drug gangs have killed public officials and terrified many citizens into fleeing: a 20-year-old woman who hasn't yet finished her criminology degree.
Marisol Valles Garcia was sworn in Wednesday to bring law and order to a township of about 8,500 that has been transformed from a string of quiet farming communities into a lawless no man's land. Two rival gangs -- the Juarez and Sinaloa drug cartels -- have been battling for control of its single highway, a lucrative drug trafficking route along the Texas border.
The tiny but energetic Valles Garcia, whose only police experience was a stint as a police department secretary, says she wants her 12 officers to practice a special brand of community policing. In fact her plan is to hire more women -- she currently has three -- and assign each to a neighborhood to talk with families, promote civic values and detect potential crimes before they happen.
"My people are out there going door to door, looking for criminals, and (in homes) where there are none, trying to teach values to the families," she said in her first official appearance on Wednesday. "The project is ... simple, based on values, principles and crime prevention in contacts house-by-house."
She has been assigned two bodyguards but won't carry a gun. She says she leave most of the decisions about weapons and tactics to the town's mayor, Jose Luis Guerrero.
Whether her decision is courageous or foolhardy, the appointment shows how desperate the situation has become in the Juarez Valley, a lucrative trafficking corridor along the Texas border.
Local residents say the drug gangs take over at night, riding through the towns in convoys of SUVs and pickups, assault rifles and even .50 caliber sniper rifles at the ready. The assistant mayor of nearby El Porvenir and the mayor of Distrito Bravos were killed recently even after they took refuge in nearby Ciudad Juarez.
Related readings:


 Mexico: Soldiers kill 25 in gunbattle near border


 Mexico makes record 105-tonne marijuana haul


 Mexico captures elusive drug kingpin 'The Barbie'


 Violence targets police, media in Mexico massacre

While the bullet holes that pockmarked police headquarters in Praxedis have been painted over, police buildings in other towns in the valley remain empty, with broken windows and few sign of life.
"Let's hope it is not a reckless act on her part," said Miguel Sarre, a professor who specializes in Mexican law enforcement at the Autonomous Technological Institute of Mexico. He said that "a municipal police force cannot protect itself against such powerful forces."
Local residents like farmer Arturo Gomez are willing to give her the benefit of the doubt.
"This is a town without law," Gomez said. "It is not likely things will change from one day to the next, but let's see what a woman can do ... things can't get any worse."
Drug cartels in many drug-plagued parts of Mexico have killed or threatened police chiefs and their departments, buying off some officers and prompting some others to quit en masse.
In past months, soldiers and then federal police largely took over patrols in the Juarez valley, but they stick mainly to the main road, afraid to venture down unfamiliar dirt roads that are well-traveled by drug traffickers.
"Here, everybody is afraid, and anything that can be done to remove that fear would be good," said Fidel Vega, a 46-year-old gas station employee. "You can see that this girl has a desire to get things done."
But question whether a young inexperienced chief can handle a problem that has stumped even Mexico's federal government: how to cope with the drug cartel threat and underpaid, untrained local police, who are easily corrupted by criminal gangs in Mexico's roughly 2,022 municipal police forces.
President Felipe Calderon has recognized the problem faced by local police forces, whose officers earn average monthly salaries of only 4,000 pesos (about $300). Most of them have completed less than 10 years of schooling and are either at basic education levels or illiterate, according to the report.
In some cities and towns, entire municipal forces have been fired or arrested for allegedly cooperating with drug gangs, and officials say their low wages and poor weaponry -- most use shotguns and pistols, while drug gangs have assault rifles — make them ineffectual or worse.
Calderon has proposed a "unified command" structure in which Mexico's 32 state governments would have state police take on the main responsibility, backed up by federal officers and soldiers where needed.
While the cartels have been more than able to penetrate much tighter security details -- killing mayors and police chiefs throughout northern Mexico -- Valles Garcia says she isn't afraid.
For residents, her personal courage may not be enough.
Amalia Garcia, 58, had to send her five children to live in Ciudad Juarez for their own safety, and now lives in Praxedis with her husband.
"Whoever is here, man or woman, things are not going to change," said Garcia. "Things are bad here and nobody pays any attention." `