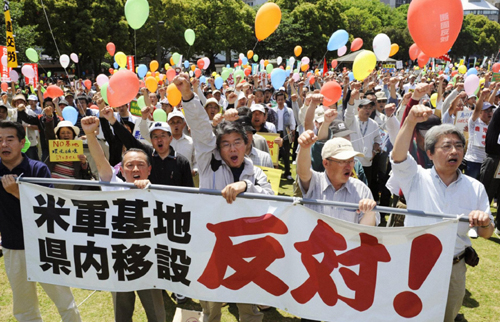 Local residents raise their fists as they shout slogans during a rally to protest against the plan to relocate the US military base there from Okinawa, in Kagoshima, southern Japan May 8, 2010. [Photo/Agencies]
TOKYO - Japan and the United States on Saturday agreed on a fresh agreement to relocate the US Marine Corps Futenma base the coast of Henoko, Nago City in Okinawa Prefecture, Kyodo News reported Sunday, citing sources.
The pact, to be announced on May 28, was reached by Foreign Minister Katsuya Okada, US Ambassador to Japan John Roos and foreign and defense officials of the two countries during a meeting Saturday.
Related readings:


 Clinton to visit Japan, China, South Korea


 PM: Base to stay at Okinawa


 Japan PM in Okinawa to seek last-minute US base deal


 Okinawa locals rally to demand relocation of US base
Under the new plan, the two sides agreed not to delay the process of the environmental assessment conducted under the existing plan to reclaim land on the coast of the US Marines' Camp Schwab in Henoko in Nago, and consider joint use of the relocation facility with Japan's Self-Defense Forces.
The agreement also states that Japan and the United States will draw up details of the relocation plan by the next "two-plus-two" Japan-US Security Consultative Committee and transfer part of the drills of US Marine helicopter troops to elsewhere outside Okinawa Prefecture.
The existing pact inked between Tokyo and Washington in 2006, which stipulates that two runways in a V-shaped configuration will be built on land to be created by filling in the sea near Camp Schwab at Cape Henoko, has already been subject to nearly three years of environmental assessment.
The Democratic Party of Japan-led government is honing in on a slight modification to the 2006 pact that would now see the majority of the Futenma functions moved to a new pile-supported facility to be built off the coast of the Marines' Camp Schwab in Nago, Okinawa city, rather than on land reclaimed from the sea as per the original deal.