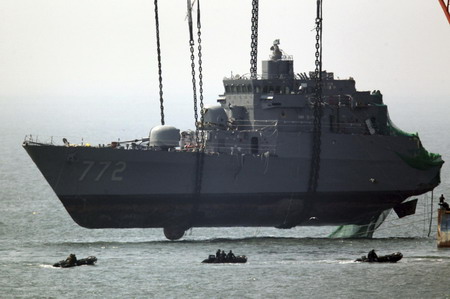 A part of the sunken Seoul naval vessel Cheonan is lifted by a giant crane off Baengnyeongdo island, near the maritime border with the Democratic People's Rebpulic of Korea, northwest of Seoul, April 24, 2010. [Agencies]
SEOUL - The Republic of Korea (ROK)'s Foreign Minister Yu Myung-hwan said on Wednesday that involvement of the Democratic People's Republic of Korea (DPRK) in the deadly sinking of a Seoul warship in March is "obvious," the Yonhap news agency reported.
Yu told a group of European diplomats and business officials that the ongoing investigations have revealed that the previously unidentified explosion was caused by "the detonation of a torpedo, " according to Yonhap.
Related readings:


 Obama calls ROK's Lee over ship sinking


 Talks wait for probe into ship's sinking


 China concerned about ROK warship sinking issue: FM spokeswoman


 S Korean Navy ship sinking possibly caused by mine explosion
When asked whether he believed the sinking was caused by the DPRK, Yu said: "It's obvious."
He made the remarks only a day before the government announces the outcome of the ongoing investigations conducted by a multinational team of investigators.
"The South Korean (ROK) government will resolutely and cautiously take necessary measures," Yu said, calling for concerted international cooperation in punishing the culprit.
"After we take appropriate measures regarding the incident, we will continue our efforts along with other countries concerned for North Korea (DPRK)'s denuclearization," he added.
The 1,200-ton naval ship "Cheonan," with 104 crew members onboard, went down on March 26 near the ROK's island of Baekryeongdo off the west coast after an unexplained explosion, killing 46 sailors.
The DPRK has denied its involvement in the incident, according to ROK's media.