LONDON – Conservative leader David Cameron became Britain's youngest prime minister in almost 200 years Tuesday after Gordon Brown stepped down and ended 13 years of Labour government.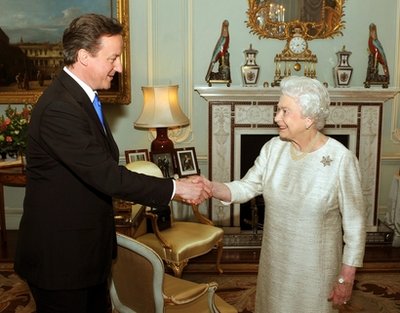 Britain's Queen Elizabeth II greets David Cameron, the leader of the Conservative Party, at Buckingham Palace, London, in an audience to invite him to be the next Prime Minister of the United Kingdom, following last week's General Election, Tuesday May 11, 2010. [Agencies] 
Cameron said he aims to form a full coalition government with the third-place Liberal Democrats after his Conservative Party won the most seats but did not get a majority in Britain national election last week.
Related readings:


 Brown resigns as British prime minister


 Brown says he will step down as Labour leader


 UK's Brown gets poll lift on final day of campaign

 UK's Brown calls for May 6 vote

Conservative Party officials told The Associated Press that Liberal Democrat Leader Nick Clegg would serve as Britain's deputy prime minister.
The two officials, who requested anonymity to discuss the appointments ahead of an official announcement, said Clegg and four other members of his Liberal Democrats would win Cabinet posts.
Ex-Conservative Party leader William Hague will serve as Foreign Secretary, and Conservative lawmaker George Osborne has been appointed as new Treasury chief, according to the Conservatives.
A third Conservative official told the AP that party lawmaker Liam Fox will be defense secretary.
The hawkish Fox takes a tough line on Iran's disputed nuclear program, and is a staunch advocate of Britain's retaining a nuclear deterrent.