News organizations in the region must face up to the challenges of climate change
For veteran Singapore journalist Felix Soh, one of the main issues facing Asian media now is that of credibility.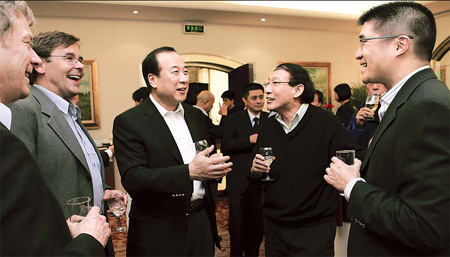 Zhu Ling (center), editor-in-chief of China Daily, has a conversation with Professor Wolfgang Donsbach (left) from University of Dresden; Paul Linnarz (second left), regional media director of KAS; Pana Janviroj (second right), president of Thai media group The Nation; and Daniel Huang, deputy director of The China Post from Chinese Taipei, at a welcome dinner in Beijing on Wednesday. [Wang Jing/China Daily]
"Asian media have a great responsibility to ensure that their reports on the region are fair and balanced just as they expect that the media outside the region cover Asia fairly and accurately," said Soh, who is the digital media editor of the English and Malay newspapers division of major media group Singapore Press Holdings (SPH).
"Asian commentators, including politicians, often complain of Western bias in the coverage of Asia by media in the developed countries, which is fair criticism to a certain extent. But they, too, must ensure that their own journalists are given enough leeway and support to report what is happening in their own turf and backyard accurately and credibly," Soh told China Daily in an e-mail interview on the eve of this year's ANN meeting.
"Asian countries should refrain from force-feeding their agenda on to their media."
The challenge for Asian media right now is to build up the professionalism of its journalists, said Soh, who is also the regional director (Asia Pacific) of the Society for News Design, the international design organization, and an ANN founding member and board member.
That means providing training and providing opportunities for exposure to international standards of reporting, he said. Asian journalists should also "avoid the jingoism and bias in their reporting and commentaries about what is happening in the West".
"Mutual empathy, mutual respect and understanding are central to ensuring balanced coverage, whether about the region or outside the region."
That is why the ANN is well-poised to play an important role in covering climate change issues and developments, Soh said.
He recommends that the ANN form a special pool of journalists from its members whose specialty is climate change.
"They should work closely together to write more extensively on the subject. They should undertake projects to cover specific climate change topics," Soh said.
"These pan-Asia reports should be presented as 'special reports' in the various newspapers. Over time, ANN would have built up a substantial body of work on climate change that would be a knowledge database for people in Asia as well as outside the region."
Such a move would be timely because the issue of climate change has become "heavily polluted by politics".
Climate change is "being used as a weapon" by some countries to further their own economic and geopolitical interests, he claimed.
"This has imposed great stress on the work of journalists on both sides in reporting the issues accurately and fairly," he said.
Soh pointed to the actions by his organization as one way to tackle climate change in its role as a major media player - and one that its Asian neighbors can learn from.
"There has been an appreciable increase in the output of coverage on climate change by the Singapore media. This has led to an increased understanding of the issues by Singaporeans," he said.
"Singapore is a small country, but it has developed tremendous expertise in eco-technology, such as waste recycling and new and more efficient ways of developing water resources.
"When its eco-technology resources are combined with the resources of a big country like China, a lot can be achieved.
"One example of this cooperation is the development of the Tianjin Eco-City, in which the resources of both countries are harnessed.
"The media of both countries can help spread word of such positive cooperation by increasing the volume of coverage of these efforts."