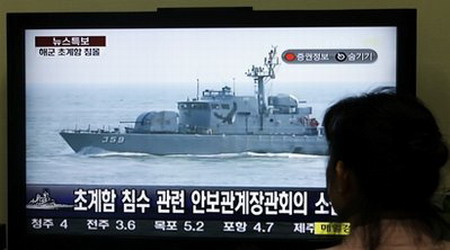 A woman watches a TV screen reporting about a navy ship sinking in Seoul, Friday, March 26, 2010. [Agencies]
SEOUL: A naval vessel from the Republic of Korea (ROK) with 104 crew members onboard sank into waters off the west coast of the Korean Peninsula late Friday due to an unknown cause, local media reported, citing naval officials.
Related readings:


 DPRK accuses US, ROK of plotting to topple regime


 DPRK accuses Japan of disrupting denuclearization


 DPRK to try American for illegal entry


 DPRK executes official for reform gone away: Report

The 1,200-ton ship sank off the ROK island of Baekryeongdo off the west coast around 21:45 p.m. Friday local time (12:45 GMT Friday), with an explosion in the back of the ship, and another ROK naval vessel fired at an unspecified target toward the north in response, ROK's Yonhap News Agency reported.

No casualties or injuries have been reported, and 58 out of the 104 crew members have been rescued thus far, Yonhap said.

Lee Ki-shik, ROK Navy general, confirmed in an press briefing that the ship "Cheonan" went down after the unexplained explosion ripped a hole in the ship's bottom.

The exact cause of the incident cannot be pinpointed at this moment, he said, adding that they also have been unable to determine whether it was caused by Democratic People's Republic of Korea (DPRK)'s navy vessel attack.

He said the military authorities will make efforts to find out the cause as soon as possible, and adopt corresponding measures.

Local media earlier reported that the incident might be caused by a possible torpedo attack from an unidentified DPRK vessel, citing military sources.

Local residents at Baekryeongdo reported having heard gunfire for about 10 minutes from 23:00 local time, local media added.

ROK government immediately convened an emergency meeting with security officials.

ROK's Defense Ministry, while forming an emergency team to help rescue operations and find out the cause, cautioned against hastily linking the incident to a possible attack by the DPRK, according to Yonhap.

The incident occurred less than three months after tensions abruptly rose on the Korean peninsula following the DPRK's repeated firing of artillery shells earlier this year into waters near the de facto sea border which was fixed unilaterally by the US-led United Nations Command after the Korean War and Pyongyang refuses to acknowledge.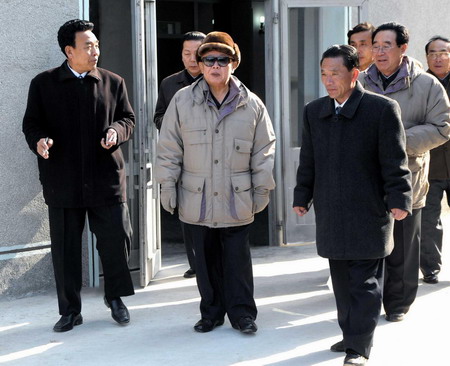 The Democratic People's Republic of Korea's leader Kim Jong-il (C) visits to the Daeheungsan Machinery Factory at the undisclosed place in DPRK, in this undated picture released by its official news agency KCNA March 26, 2010. KCNA did not state when the picture was taken. [Agencies]