WASHINGTON: US Secretary of State Hillary Rodham Clinton on Monday rejected Russia's call for a new European security treaty, saying a closer cooperation between Russia and NATO will strengthen Europe's security.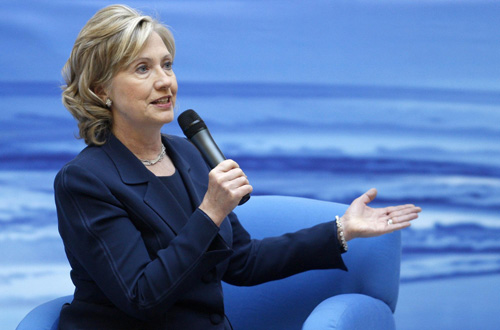 US Secretary of State Hillary Clinton speaks during the programme 'From Washington', moderated by Al Jazeera's Washington Bureau Chief Abdulrahim Fukara (not pictured), on the Carnegie Mellon campus in Doha February 15, 2010. [Agencies] 
"Let me state this unambiguously: While Russia faces challenges to its security, NATO is not among them," said Clinton at the Washington Strategic Concept Seminar, referring to the new European Security Treaty, which according to the Kremlin will help the world "finally get rid of the legacy of the Cold War."
"We want a cooperative NATO-Russia relationship that produces concrete results and draws NATO and Russia closer together," said Clinton, adding "European security will benefit if NATO and Russia are more open about our armaments, our military facilities, and our exercises."