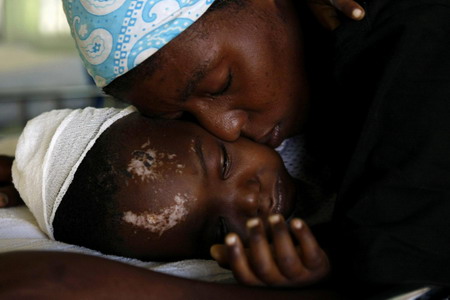 Samantha Jeanelson, 24, comforts her son Pierre in the Saint Damien Hospital in Port-au-Prince January 20, 2010. Pierre, 4, lost a leg in the January 12 earthquake. [Agencies]
PORT-AU-PRINCE, Haiti: A frightening new aftershock Wednesday forced more earthquake survivors onto the capital's streets to live and sent others fleeing to the countryside, where aid was only beginning to reach wrecked towns.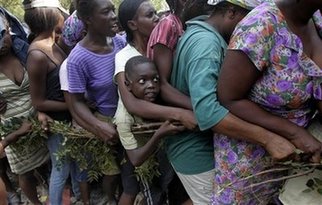 Sonsonne Semtembre, 9, center, hangs on to a tree branch as he tries to stay in line with others to receive disaster relief at the US 82nd Airborne Division's forward operating base in Port-au-Prince, Wednesday, Jan. 20, 2010. [Agencies] 
A flotilla of rescue vessels, meanwhile, led by the US hospital ship Comfort, converged on Port-au-Prince harbor to help fill gaps in still-lagging global efforts to deliver water, food and medical help. Hundreds of thousands of survivors of Haiti's cataclysmic earthquake were living in makeshift tents or on blankets and plastic sheets under the tropical sun.
The strongest tremor since the Jan. 12 quake struck at 6:03 am, just before sunrise while many still slept. From the teeming plaza near the collapsed presidential palace to a hillside tent city, the 5.9-magnitude aftershock lasted only seconds but panicked thousands of Haitians.
"Jesus!" they cried as rubble tumbled and dust rose anew from government buildings around the plaza. Parents gathered up children and ran.
Up in the hills, where US troops were helping thousands of homeless, people bolted screaming from their tents. Jajoute Ricardo, 24, came running from his house, fearing its collapse.
Related readings:


 UN rises to the challenge in Haiti


 IMF chief calls for new 'Marshall Plan' for shattered Haiti


 Davos meeting to discuss global economy, climate, Haiti


 New 6.1-quake hits Haiti, people flee into streets

"Nobody will go to their house now," he said, as he sought a tent of his own. "It is chaos, for real."
A slow vibration intensified into side-to-side shaking that lasted about eight seconds — compared to last week's far stronger initial quake that seemed to go on for 30 seconds and registered 7.0 magnitude.
Throngs again sought out small, ramshackle "tap-tap" buses to take them away from the city. On Port-au-Prince's beaches, more than 20,000 people looked for boats to carry them down the coast, the local Signal FM radio reported.
But the desperation may be deeper outside the capital, closer to last week's quake epicenter.
"We're waiting for food, for water, for anything," Emmanuel Doris-Cherie, 32, said in Leogane, 25 miles (40 kilometers) southwest of Port-au-Prince. Homeless in Leogane lived under sheets draped across tree branches, and the damaged hospital "lacks everything," Red Cross surgeon Hassan Nasreddine said.
Hundreds of Canadian soldiers and sailors were deploying to that town and to Jacmel on the south coast to support relief efforts, and the Haitian government sent a plane and an overland team to assess needs in Petit-Goave, a seaside town 10 miles (15 kilometers) farther west from Leogane that was the epicenter of Wednesday's aftershock.
The death toll was estimated at 200,000, according to Haitian government figures relayed by the European Commission, with 80,000 buried in mass graves. The commission raised its estimate of homeless to 2 million, from 1.5 million, and said 250,000 people needed urgent aid.
Many badly injured Haitians still awaited lifesaving surgery.
"It is like working in a war situation," said Rosa Crestani of Doctors Without Borders at the Choscal Hospital. "We don't have any morphine to manage pain for our patients."
The damaged hospitals and emergency medical centers set up in Port-au-Prince needed surgeons, fuel for generators, oxygen and countless other kinds of medical supplies, aid groups said.
Dr. Evan Lyon, of the US-based Partners in Health, messaged from the central University Hospital that the facility was within 24 hours of running out of key operating room supplies. Wednesday's aftershock was yet another blow: Surgical teams and patients were forced to evacuate temporarily.
Troops of the 82nd Airborne Division were providing security at the hospital. A helicopter landing pad was designated nearby for airlifting the most critical patients to the US Navy hospital ship Comfort.
The great white ship, 894 feet (272 meters) long, with a medical staff of 550, was anchored in Port-au-Prince harbor and had taken aboard its first two surgical patients by helicopter late Tuesday even as it was steaming in.
It joined the aircraft carrier Carl Vinson and other US warships offshore, along with the French landing craft Francis Garnier, which carried a medical team, hundreds of tents and other aid.