Chinese officials and defense analysts said yesterday that tough sanctions against Iran - a key Western demand - are likely to fail, or even backfire.
China's foreign affairs ministry, in what was Beijing's fifth announcement on the Iran nuclear issue this year, reiterated that only diplomatic effort could solve the problem, ahead of a scheduled meeting to discuss the issue over the weekend.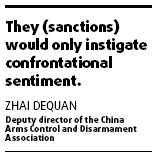 "China has consistently advocated a peaceful resolution to the Iran nuclear issue through diplomatic negotiations so as to maintain the validity of the international nuclear non-proliferation system and peace and stability in the Middle East region," the foreign affairs ministry spokeswoman Jiang Yu said.
"We always believe that sanctions are not the way to solve the root problem," she added.
However, some US officials are calling for military action against Iran.
In the strongest hint of war in months, the head of the US Central Command (CENTCOM), David Petraeus told CNN on Sunday that, in addition to crippling sanctions and other diplomatic measures, Washington was also considering "contingency plans" against Iran's nuclear installations.
"It would be almost literally irresponsible if CENTCOM were not to have been thinking about the various 'what ifs' and made plans for a whole variety of different contingencies," said Petraeus.
In Teheran, Iranian foreign affairs ministry spokesman Ramin Mehman-Parast said Petraeus "has made thoughtless comments". "It is better that any statement made in this regard take a constructive approach."
Related readings:


 Iran accepts Clinton non-deadline on nuke talks


 US seeks sanctions on Iran


 China says sanctions not the answer for Iran


 US warns Iran to meet nuke deal deadline

Still, major Western powers are seeking tougher sanctions. The five permanent members of the UN Security Council and Germany have tentatively agreed to meet this weekend to discuss the issue.
In related comments while en route to Hawaii for a visit to the Pacific region, US Secretary of State Hillary Clinton said the White House has concluded that a "smarter" way to pressure Iran to come clean on its nuclear ambitions is to impose sanctions aimed at the country's ruling elite.
The US wants to focus on Iran's Revolutionary Guard Corps, an elite military branch with far-reaching business interests and a role in its nuclear and missile development, Clinton has said.
The menu of sanctions may also include additional restrictions on financial transactions and cutting off insurance for Iranian cargo shipments, Bloomberg news quoted Michael Jacobson, a senior fellow at the Washington Institute for Near East Policy, as saying.
Considering that China, the current rotating presidency holder of the UN Security Council, may likely block any sanctions, The Wall Street Journal said that the White House "shouldn't wait for China to come around on sanctions".
"The better idea is to form a coalition of the willing outside the UN that, among other things, bars companies around the world that do business with Iran from access to Western capital markets," the New York-based paper said on Monday.
Chinese analysts, however, warned that further sanctions would fail to work.
"Sanctions are no use at all," said Zhai Dequan, deputy director of the China Arms Control and Disarmament Association. "They would only instigate confrontational sentiment (between Iran and the West)."
Zhai, an expert in nuclear arms-control, pointed out that there was yet little evidence to prove that Teheran was pursuing a nuclear weapons program. "At the end of the day, it's a problem of ideological differences," Zhai stressed.
He also suggested that Iran should seek better cooperation with the IAEA to prove that its nuclear program was peaceful.
Hua Liming, a former Chinese ambassador to Iran, also said that the IAEA still lacks evidence to claim that Iran's uranium program was for developing nuclear weapons. A uranium enrichment plant buried inside a mountain near the holy city of Qom was uncovered in September.
Hua said further sanctions would only accelerate Teheran's nuclear program.
"Mahmoud Ahmadinejad will find the sanctions a good reason to call for a more unified Iran, as the Iranian president is now under domestic pressure from the opposition," he said.
Hua also pointed out that Israel, which says Teheran's nuclear program is a major threat, would put more pressure on the White House for sanctions.
"The US is thinking about delaying talks until February, when France will take over the rotating UN Security Council presidency from China," he added.