NANCHANG -- Eight hours of computer work everyday always makes white collars feel boring, but Zhang Keli has found a welcome respite from office chores -- a bamboo keyboard.
"It's a novelty to me," said 28-year-old Zhang, a fashion-loving employee of the Jianshou Advertisement Co. Ltd. in the eastern Chinese city of Nanchang, Jiangxi Province, the hometown of bamboo.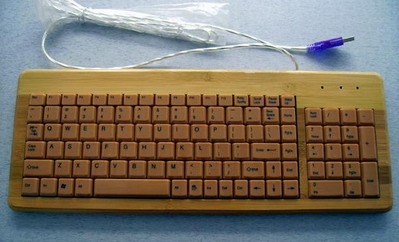 File photo [cn.made-in-china.com]
She just bought such a bamboo keyboard to replace a plastic one for her home computer a few days ago.
"I feel fun whenever I press the bamboo buttons, which gives me a feeling of gentleness and eases my tension and tiredness from work," she said.
"What's more, I think it's sort of environment-friendly, a green product," she said.
As hi-tech brings conveniences and also pollution to the modern world,  people who have a keen awareness of ecological protection are looking for green ways of living to offset the negative impact of advanced technologies.
Although bamboo keyboard is still a new thing to most computer users, it is nevertheless gaining popularity.
"We've delivered 20,000 bamboo keyboards to the wholesalers, and another 20,000 orders are awaiting delivery," said Zhang Lina, a sales manager of the Jiangqiao Bamboo and Wood Industry Co. Ltd., the sole producer of bamboo keyboard in China. The company is in Jiangxi's Tonggu County which enjoys abundant bamboo resources.
"We started mass producing the new product in October last year, which was mainly exported overseas," Zhang said.
"It sells well in the European and American markets, but not the domestic market for now," she said.
But she added the company has set up franchised stores in Shanghai and Ningbo to sell the products since the beginning of this year.
The idea of manufacturing bamboo keyboards came from a business talk the company had with an electronic company from Shenzhen in 2005, when the Shenzhen company's general manager suggested the Jiangqiao company manufacture computer boards made of bamboo, said Feng Chun, a technician of the Jiangqiao company.
"We have been developing such a product ever since," Feng said.
"Of course, we broke through a series of technical difficulties in almost three years, such as how to prevent the bamboo keyboard frame from cracking, how to prevent the bamboo bottom plate from distorting and how to make bamboo buttons firmly linked with the main board," he said.
He said sophisticated technologies, such as numeric control, carving and handicraft, had been employed to solve the problems.
The new product was awarded a patent by the State Intellectual Property Office on November 28, 2007 for its utility and novelty, Feng said.
"You needn't worry that it might crack even if it drops from a one-meter-high table. Its user-life is no shorter than a plastic one," he said.
The new product has also won applause from computer and woodcraft experts.
"The degradability of the keyboard can be enhanced with the substitution of bamboo for plastics, so it's environment-friendly, " said Prof. Zhu Zhenghou, from the School of Materials Science and Engineering with the Nanchang University.
"It can bring computer users a unique feeling: cool in the summer while warm in the winter. In addition, it can prevent static electricity and the bamboo veins have the function of absorbing ultraviolet radiation," he said.
Computer users might have seen keyboards whose frames are made of bamboo or wood on the market, but such a computer keyboard all made of bamboo, including its frame and buttons, is believed to be the first of its kind in China, the producer and experts have said. It is also rarely seen worldwide.
"It's a novelty that the buttons, carved and made of bamboo, are firmly and perfectly fastened to the main board," said Prof. Zhang Qisheng, from the Nanjing Forestry University, an expert on wood processing and man-made board technology.
To Feng Xuquan, general manager of the Jiangqiao company, the eco-friendly feature of the product also lies in the fact that bamboo leftovers can be used again.
"Our company is mainly manufacturing bamboo flooring and many leftovers used to be left and burnt as fuel," Feng said. "But now, the 'waste' material can be fully used."
Currently, about 260 workers in the company, out of the 700 total, are engaged in manufacturing bamboo keyboards, he said.
A bamboo keyboard sells at 80-300 yuan (US$12-44), or slightly higher than a normal plastic one in China, according to sales manager Zhang. Students and home computer users are major consumers of the product in the country.
Compared with the Western market, the sales volume in the domestic market is less inspiring, although Zhang would not reveal the figure.
"It seems that Westerners more favor bamboo products than us Chinese," Zhang said. But she still has confidence.
"It is gaining recognition and popularity step by step as more and more people want to experience new things and lead a green life," she said.
"In addition to Shanghai and Ningbo, a number of computer retailers in Shenzhen, Guangzhou and Nanchang have expressed willingness to sell our products as agents."
Currently, the company has just one assembly line that can manufacture 30,000 bamboo keyboards a month, she said.
"We have also developed a bamboo mouse and USB that will go to market before June," she said.
"By then, we will add one more assembly line," she added.