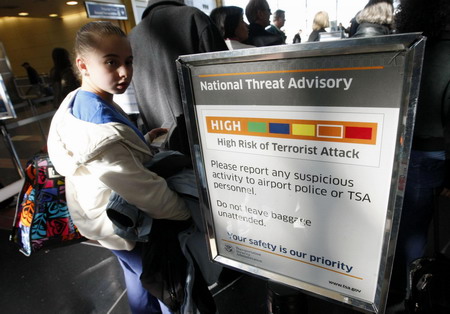 A girl glances at a sign reading "High Risk of Terrorist Attack" as she stands in the departure security line at Reagan National Airport in Washington December 29, 2009. [Agencies]
THE HAGUE, Netherlands: The Dutch government says it will immediately begin using full body scanners on flights to the United States to prevent future terrorist attacks like the Christmas Day attempt by a young Nigerian.
Related readings:


 Security reviews under way after flight attack


 Passengers help foil attack on Detroit-bound plane


 UK says it put plane bomb suspect on watchlist


 Al-Qaida link in failed plane attack: sources


 Obama monitoring Delta flight firecracker situation
Umar Farouk Abdulmutallab, 23, managed to board a Northwest Airlines flight to Detroit from Amsterdam's Schiphol Airport carrying explosives but failed to successfully detonate them.
In a preliminary report, the Dutch government says his plan to blow up the Detroit-bound aircraft was professional but its execution was "amateurish."
An earlier Dutch investigation said all security checks were correctly carried out in Amsterdam and American authorities had cleared the passenger list.