MANILA: At least four bodies were recovered on Sunday from the sea following the sinking of a ferry off San Agapito, Verde Island in Batangas province of the Philippines on Saturday night.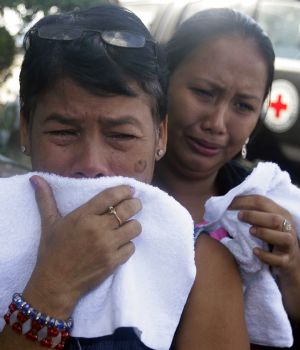 Norma Mauhay (L) cries with her daughter Leslie (R) as they wait for news about her son, passenger of a ferry that sunk in central Philippines, at Batangas port, south of Manila December 27, 2009. [Agencies] 
The fatalities were an eight-month old female, a 15 to 18-year-old female, another female aged 18 to 24, and a male aged 30 to 40, said Senator Richard Gordon, chairman of the Philippine Red Cross.
Related readings:


 Boat sinks in Amazon River; at least two dead


 5 missing after fishing boat sinks off Busan


 38 rescued after cargo ship sinks off Lebanon


 High 2008 base sinks Oct export data


9 dead, 926 rescued from capsized Philippine ferry

According to the Philippines Coast Guard authorities, the bodies will be sent to the Batangas pier, where relatives are awaiting for identifying the fatalities.

The ferry with 88 passengers and crew sank off Batangas province at around 11:30 p.m. local time.

It is reported that many passengers on the ferry had no time to put on life vests when the ship sink.  

The ferry, Baleno 9, left the Port of Calapan in Oriental Mindoro before at 11:00 p.m. local time and was bound for Batangas City when tragedy struck about 40 minutes later.

It was the second sea accident in the Philippines during the Christmas holiday. A wooden-hull motor ferry sank after ramming into a fishing ship at the mouth of Manila bay on Thursday, leaving 3 dead and 24 others missing.

Sea accident is common in the Philippine archipelago where low- income families largely rely on boats to transport from one island to another.

But bad weather, poor maintenance, lack of safety measures resulted in a series of deadly accidents. In 2008, a giant passenger ship capsized at the height of a typhoon in central Philippines, killing nearly 800 people.