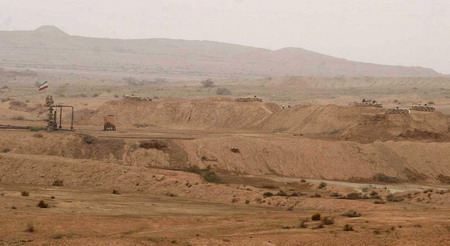 An Iranian flag is seen at the site of a captured well at Fakka oilfield near Amara, 300 km (186 miles) southeast of Baghdad, December 19, 2009. [Agencies]
US officials said Iran had overstepped its boundaries.
Adm. Mike Mullen, the top American military official, said the US considers the oil site Iraqi sovereign territory.
Christopher Hill, the US ambassador to Iraq, said the incident does speak to the overall view here that they are not going to be "pushed around by Iran."
Related readings:


 Crude prices rise on Iran-Iraq tension


 Iraq official confirms Iran incursion in oil area


 US military withdrawal on track: Iraq PM


 Blair says Iraq war is right even if no WMD exists


 Iraq orders security shakeup after blasts
However, Mullen said the incident must be resolved by the Iraqi government, and there were no plans by the United States to intervene.
Once bitter enemies, Iraq and Iran settled into a more positive, if still uneasy, relationship after a Shiite-led government came to power following the 2003 US-led invasion.
"I continue to worry about the influence of Iran," Mullen, in Iraq for a two-day visit with US and Iraqi authorities, said at a news conference in Baghdad. "I still think it's important that Iran have a constructive, positive influence in this region and globally. And there are just too many examples where that is not the case."
Odierno also said Iran continues to fund and train fighters in Iraq, as well as send weapons and equipment over the border, although less frequently now than in the past.
Analysts said it was too early to say whether the incident would mushroom into greater tension but said it could raise concerns with oil companies looking to invest in Iraq.
Oil prices rose slightly after news of the incident.