Swedish environmentalist Dennis Pamlin has been digging through history: the Stockholm Conference of 1972, the Rio Summit of 1992, the 1997 Kyoto Protocol.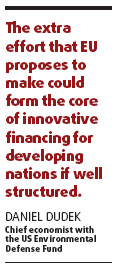 In each summit, he found that rich, developed countries promised to support poor countries though money, better trade rules and transfer of technology.
"But again and again, rich countries have failed to live up to these promises," Pamlin told China Daily. "There are many reasons for the failures and it doesn't mean anything to blame anyone, especially since very few at the conference in Copenhagen were part of these historic summits."
However, when leaders such as United States President Barack Obama step into the Bella conference centre in Copenhagen, they should keep in mind the gap between promises and delivery, he said.
"This is my message to the leaders from rich countries," said Pamlin.
He added that developed countries, which have emitted so much during their developments, should make the first move.
"We have seen very little of this and we need to see not only targets, but also measures that ensure delivery," Pamlin said. "Developing countries have already begun measures to reduce emissions and these measures will increase."
He noted that where the per capita emissions are the highest, living standards are also the highest.
John Sayer, director of Oxfam Hong Kong, also said the European Union and the US should no doubt take the lead in cutting their emissions by a dramatic amount, in developing the technologies that are necessary, in providing finances for both adaptation and mitigation, and in transferring the technologies.
Full Coverage:


 Summit in Copenhagen
Related readings:


 China raps sidertracking at Copenhagen summit


 China sees growing share in clean energy


 China calls on rich nations to deliver on climate pledges


 China warns rich nations against 'shirking responsiblity'


 China's Sun King dreams of a green future
Alessendro Vitelli, from London-based IDEACARBON, expects leaders to step up political pressure to reach a deal at Copenhagen. He said EU leaders may choose the conference to move their reduction targets to 30 percent below 1990 levels by 2020, which may be a good move to unlock the negotiation gridlock.
"I don't expect to hear anything substantial in the leaders' public speeches - their work in the negotiations will be more important," Vitelli said.
Huang Shengchu, president of China Coal Information Institute, said the US is more active now than before but it can take concrete measures and a sharing of responsibilities with other developed nations.
Daniel Dudek, chief economist with the US Environmental Defense Fund, said Copenhagen is a real test of global governance and UN has made some success before, considering the case of CFCs and stratospheric ozone depletion.
"But is the community of nations up to agreeing on the control of a similar threat but with more far reaching economic consequences especially during a global economic recession?" questioned Dudek of the UN's abilities.
He said climate change is a real problem whose control is supported by the majority of the EU's population and the union has already committed to significant reductions in the short term with a promise to do more if other nations do so.
"The extra effort that EU proposes to make could form the core of innovative financing for developing nations if well structured," said Dudek.
For Obama's role in the Copenhagen summit, Dudek dismissed his effect at Copenhagen as the US is in the midst of a key period of the next election cycle and the clock is ticking on legislation that has passed by the nation's House of Representatives.
Given the central importance of US legislation to global control of greenhouse gas emissions, Dudek asked Obama: " What do you plan to do to accelerate Senate action on climate change legislation before the mid-term elections?"
(China Daily 12/16/2009 page10)