JAKARTA: Rescuers saved more than 240 people aboard an Indonesian passenger ferry that sank Sunday in rough waters off Sumatra island, but at least 25 people have died, officials said. Search operations were called off after nightfall for the unknown number of passengers still missing.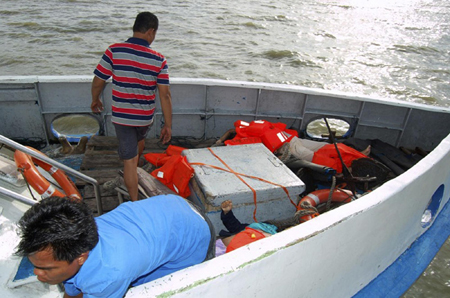 Rescuers check recovered bodies of victims of a sunken ferry, on a ship at port in Karimun island, Riau province November 22, 2009. [Agencies]

A second ferry was still stranded in nearby waters after running aground, but all its passengers were said to be safe.
Rescue teams found 25 bodies, including those of two children, according to the latest reports, said Daniel, an official from the local search and rescue agency who like many Indonesians uses only one name. A total of 243 survivors from the Dumai Express 10 were rescued, he said.
It was unclear how many people were aboard the ferry. Police and navy officials said the ferry manifest listed 228 people, including 15 children, and 14 crew members, but the number of people accounted for has already surpassed those numbers.
The ship had a capacity of 273, but it is not uncommon for ferries to be overloaded.
Authorities called off search and rescue operations in the rough sea after nightfall, said Yasin Kosasih, a local police chief coordinating the rescue mission.
"Considering the weather condition and the dark, we ... will resume the search tomorrow morning," Kosasih said.
High waves had made the rescue operation difficult, which at its peak had at least nine ships and several fishing boats searching the choppy sea. Local television news showed two survivors, wearing life jackets, floating on the water.
The ferry left on an inter-island voyage Sunday morning and sank in stormy weather 90 minutes into the trip from Batam to Dumai in Riau, a province off Sumatra island in western Indonesia. The area is about 600 miles (900 kilometers) northwest of Jakarta.
The ship sank about 30 minutes after huge waves hit its bow and water started seeping in, according to a report from the ship's captain, said Lt. Col. Edwin, the local navy chief.
Passing boats picked up dozens of those rescued and took them to nearby islands for medical treatment.
In a separate accident Sunday, the Dumai Express 15 with 278 people on board ran aground on its way from Batam to Moro island in Sumatra. No one was hurt said local police chief Yasin Kosasih.
Indonesian ferry accidents have killed hundreds of people in recent years. Boats are often overcrowded and safety regulations are poorly enforced. The vast country spans more than 17,000 islands, and boats are a popular and relatively cheap form of transportation.
In January, some 230 people went missing after their ferry capsized in a cyclone off the coast of western Sulawesi. In December 2006, a crowded ferry broke apart and sank in the Java Sea during a violent storm, killing more than 400 people.