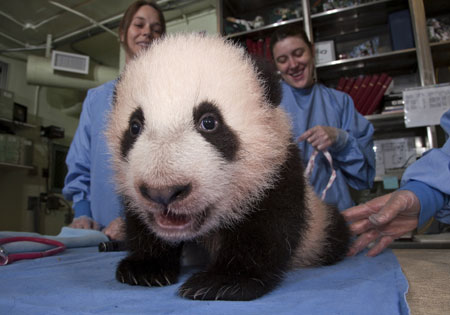 The San Diego Zoo's panda cub, which has marked a milestone by cutting his first two teeth the lower canines near the front of his mouth, is seen in this handout photograph taken and released November 12, 2009. [Xinhua]
LOS ANGELES: A 14-week old giant panda cub born at the San Diego Zoo was named Yun Zi Tuesday at a ceremony in San Diego.
The name was selected from over 6,300 recommendations by the public, many of them through the Internet.
San Diego Zoo officials then selected five potential names from 6,300 and let the public decide the giant panda's name.
Over a four-day period, more than 17,000 votes were submitted through the zoo's web site. Of which, Yun Zi received 28 percent of the votes.
The other four names put for vote are: Blissful San Diego, Little Dragon, Extraordinary Bear and Eternally Blessed, according to zoo officials.
Related readings:


 Austria-born panda 'Fu Long' heads for China


 Panda mania hits Singapore


 Giant panda's playful kingdom


 Giant panda cub born in northwest China


 Panda cub's latest album at Thai zoo
Yun in Chinese means cloud, and Zi means son. Yun Zi means "Son of Cloud." Zoo officials said the name was selected because the name of the baby panda's mother is Bai Yun, which means "White Cloud."
The 13-pound cub Yun Zi was born at the San Diego Zoo on August 5. Zoo officials said that in accordance with Chinese tradition, giant panda cubs are not named until they are 100 days old.
Sun Weide, Deputy Consul General in Los Angeles, attended the naming ceremony. He said Tuesday is special because US President Barack Obama is in China for a state visit while the giant panda cub is named in San Diego.
He said giant panda is a goodwill ambassador to promote friendship between China and the United States.
"This giant panda cub has been embraced worldwide," said Douglas Myers, the San Diego Zoo's chief executive officer.
"Yun Zi and the other pandas are ambassadors to conservation. The pandas help us here, at the San Diego Zoo, connect people to wildlife around the world," Myers stressed.
The male cub Yun Zi was the fifth cub born at the San Diego Zooby Bai Yun, an 18-year-old mother. Her first cub, Hua Mei, was born in 1999, followed by Mei Sheng in 2003, Su Lin in 2005 and Zhen Zhen in 2007.
There was a public excitement in the United States over the naming for the panda cub. San Diego Zoo officials invited panda fans to attend the naming ceremony and reserved seats for them.
On the San Diego Zoo's web site, many panda fans expressed their best wishes and hoped that the panda cub would get a most beautiful name.
One of the fans, Marysue, wrote: "If I lived there, I would be coming! Virginia is pretty far from you. I send warm wishes to those who are able to come and I will be thinking about you all on November 17. Wish I could be there." The web moderator sent out a note to Marysue: We'll save a virtual seat for you.
A girl named Panda Annie wrote that she wished she could come. She lives in California but not near San Diego and was too sad.
Jean wrote that she wished she could be there.
"I was at the Zoo in 1999 when Hua Mei was still waiting to be born. She is a special panda to me as I was visiting California that year because my brother was in the hospital in San Diego. I went to the Zoo because I knew it would probably be the only time I would ever be able to visit. I will be waiting anxiously to hear what the little cub will be called. He is special too because I am able to watch him grow," wrote Jean.
Savanna wrote on the Web site: "I can't wait to see what his name will be! I'm baking a cake for him on Tuesday and I'll decorate it with his name on the frosting when it's announced. Happy 101 days of being healthy and beautiful."
Kelly in Florida voted for Yun Zi on November 14 and wrote: "I wish I could come! It's a long way from Florida! I hope my name wins (Yun Zi, son of cloud, is my favorite). Have fun to all who are lucky enough to go."
Karen from Phoenix, Arizona wrote: "I wish I could afford to come right now but cannot. I will be at home watching the panda cam and waiting for the news of what the little one's name will be. Thank you all for the great work you do with the Panda's and all the animals at the zoo. I hope the name that is picked is Yun Zi (son of a cloud)."
The San Diego Zoo has had a love affair with giant pandas ever since two of the black-and-white bears, Bai Yun and Shi Shi, came to visit Sand Diego Zoo in 1987 from China. More than 2 million people viewed the pandas during their stay.
After years of negotiation, the Zoo and China agreed on a 12-year research loan of two giant pandas, Bai Yun and Shi Shi.
On August 21, 1999, Bai Yun gave birth to Hua Mei, the first giant panda born in North America to survive to adulthood. Millions of people around the world watched Hua Mei grow up via the Zoo's Panda Cam.
A brand-new exhibit area was built for the panda guests, which has since been expanded and renovated. Now San Diego Zoo has four giant pandas, the largest number of giant pandas in the US.