PESHAWAR, Pakistan: A pickup truck laden with explosives blew up in front of a police station in northwestern Pakistan on Monday, killing at least 4 people in an area that has become the focal point for militant retaliation against a recent army offensive.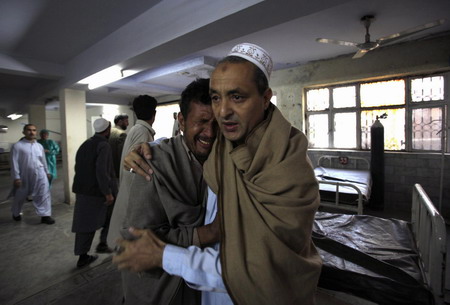 A man grieves the death of a relative, who was killed by a suicide bomb attack, at the Lady Reading hospital morgue in Peshawar November 16, 2009. A suicide car-bomber killed at least three people on Monday near a Pakistan air force base close to the northwestern city of Peshawar and the Afghan border, a government official said. [Agencies]

The massive explosion caused a wide swath of destruction in the town of Badh Ber, severely damaging the station and a nearby mosque and completely destroying several houses and shops.
Suspected militants have killed more than 300 civilians and security personnel in the last month in an attempt to weaken the country's resolve to continue the military operation in the tribal area of South Waziristan, where al-Qaida and Taliban leaders are believed to be hiding.
"We have to continue this war against terrorists and have to keep our nerves," said Mian Iftikhar Hussain, the information minister for North West Frontier Province where Badh Ber is located.
Police opened fire on the pickup truck as it approached a checkpoint in front of the police station, but the driver was able to detonate his explosives, said Liaqat Ali Khan, the senior police chief in the main northwestern city of Peshawar.
Related readings:


 Suicide bomber kills 10 in Pakistan's Peshawar


 Suicide attack kills 5 in Pakistan's Peshawar


 Attacks kill 16 in Pakistan, spy agency targeted


 Bomb kills 20, wounds 55 in northwest Pakistan


 Police: Suicide bomber kills 3 in Pakistan
"The sound of the blast was very loud, and when I rushed out from my home I saw everything was destroyed here," Tariq Hasan told AP Television News. "My house was destroyed by the blast."
The attack killed four people and wounded 30 others, said Sahib Gul, a doctor at a hospital in Peshawar where the dead and injured were brought.
Some of the wounded included policemen, said Hussain.
Local television footage showed rescue workers searching for survivors amid a tangle of bricks and twisted metal and police examining the deep crater caused by the explosion. The blast killed a horse that was attached to a wooden carriage and injured another nearby.
An explosives expert, Tanvir Ahmed, estimated the pickup truck was carrying about 550 pounds (250 kilograms) of high explosives when it attacked the station, a much larger amount than has been used in many similar bombings carried out in recent weeks.
"This is an obvious reaction to the operation in the tribal areas," said Sahibzada Anees, a senior government official in the area.
Badh Ber is located some seven miles (12 kilometers) south of Peshawar. The area in and around the city, which borders Pakistan's semiautonomous tribal region, has experienced a wave of attacks since the army launched its South Waziristan offensive in mid-October. More than 50 people have been killed in the area in a little over a week.
Hussain, the information minister, said the South Waziristan operation has driven many militants out of the tribal region into places near Peshawar, making the area a prime target for attacks.
"Terrorists have spread into our settled areas and have surrounded Peshawar, but they cannot defeat our resolve," said Hussain.