SINGAPORE: Australian Prime Minister Kevin Rudd Saturday sold his idea of an Asia-Pacific community to hundreds of participants from the business circle attending the APEC CEO Summit in Singapore.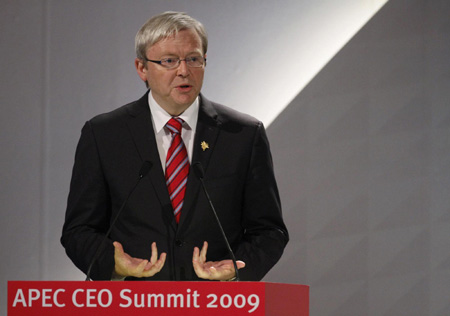 Australia's Prime Minister Kevin Rudd speaks at APEC CEO Summit in Singapore November 14, 2009. [Agencies] 
He claimed that it is a solution to the inadequacy of the regional institutions in the Asia-Pacific.
Special coverage:
17th APEC Leaders' Week
Related readings:


Obama in Asia but will miss APEC costume
Asia-Pacific leaders not to wear APEC attire to take group photo

APEC menu: hold the onion

Hu delivers speech at APEC CEO Summit

Chinese President Hu Jintao on Singapore visit
Rudd said among a vast array of institutions in the Asia-Pacific region, the ASEAN (the Association of Southeast Asian Nations) has been proved to be a successful one in that it brings together a sense of common, regional community, self-security community and enhances economic cooperation. However, it only concentrates on Southeast Asia.
From the ASEAN's success, he proposed the idea of setting up a community with an agenda to cover all aspects, including political, security and economic cooperation, so as to "avoid reemergence of fundamental strategic rifts" in the region in the future, to deal with the deep underlying challenges concerning territorial claims, to avoid future conflicts and to enhance further cooperation to create a single market.
He explained the idea of community is aimed at encouraging the "habits of cooperation."
He warned that peace and security in the Asia-Pacific region is never inevitable, but hard fought, through institutions of existing cooperation.
Therefore, "we have to encourage through direct institution building these habits of cooperation to become entrenched and normal in the future," he said.
Australia is patient on this, he said.