Climb the Great Wall, wander the grounds of the Forbidden City, partake in Peking duck and watch the marching guards in Tian'anmen Square these are some of the things I have done in Beijing that allow me to tell others I have seen it all after more than two years in the capital.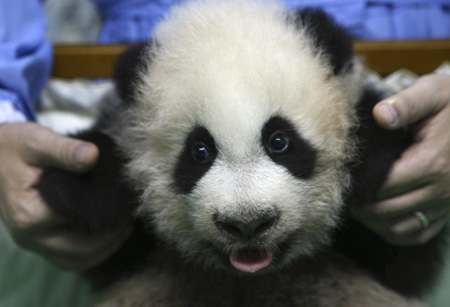 A veterinarian holds the panda cub Lin Ping at Chiang Mai Zoo, north of Bangkok, September 4, 2009. [Agencies]
Related full coverage:


17th APEC Leaders' Week
Related readings:


 Hu: China to offer pandas to Singapore


 Hu makes six-point proposal in Singapore


 President Hu proposes security co-op with Singapore

Well, except maybe for the giant pandas at the Beijing Zoo.
My fellow Singaporean colleague tells me the bears are the best attraction there, a view that is endorsed by the visitors from home and abroad that I hear swarm the site on any holiday.
It is hard not to like the pandas here in China. They are one of the country's most successful envoys and never fail to capture the hearts of young and old - from being stuffed toys in souvenir shops along hutong alleyways or as the mascot for the World Wildlife Fund.
So it is only understandable that the press here have gone gaga over the news that China is sending two giant pandas to the city-state.
President Hu Jintao, who is on a state visit to Singapore before attending key events of the APEC forum there this week, announced that the two animals will arrive in their host country in 2011.
The pandas, a 1-year-old female and 2-year-old male, come from the Wolong nature reserve in Sichuan province and are expected to be in Singapore for a decade.
The announcement of their stay could not have come at a better time.
President Hu said "China and Singapore enjoy geographical proximity, friendly sentiments and a shared language" and that Sino-Singapore relations will reach "a new high", while Singapore's President SR Nathan said the two countries are at "the cusp of a new chapter" as they celebrate the 20th anniversary of diplomatic relations next year.
Singapore is a key partner of China, with bilateral trade reaching $52.4 billion last year, up more than 10 percent from the previous year.
So it is fitting that the island republic now joins a handful of other countries to receive the bears through the latest instance of "panda diplomacy", in which the pandas have proven to be crowd-pullers wherever they go.
Once the animals are in Singapore, authorities said they will also be part of research on breeding as well as a conservation program to raise awareness of endangered species. Less than 2,000 pandas are said to be left in the world, with less than 300 of these in captivity in Wolong and abroad.
Experts from China are also expected to help trainers in Singapore handle the furry visitors, while select bamboo - the staple diet of pandas - will be planted and a special enclosure set up to house the bears.
All these preparations are in line with the high expectations of many Singaporeans who have embraced panda mania.
Singapore student Jean Lim said she is very excited about the pandas' arrival, even though that is still more than a year away.
"It'll be great to have pandas here I won't have to rush to places like Beijing or Sichuan to see them," said Lim, 20. "The wait will be worthwhile."