PESHAWAR, Pakistan: Gunmen shot dead the spokesman for the Iranian consulate in the northwestern Pakistani city of Peshawar on Thursday, police and witnesses said.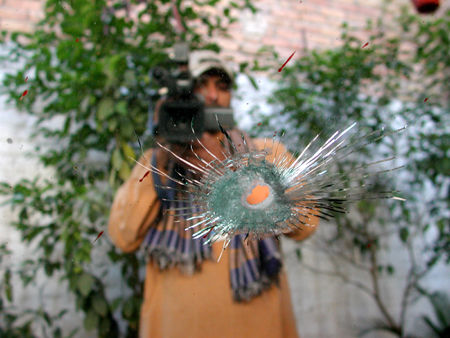 A photo taken on Nov. 12, 2009 shows a bullet hole on the windscreen of the car where Syed Abul Hasan was shot dead in Peshawar, Pakistan. [Xinhua]

Syed Abul Hasan, Director Public Relations in the Iranian consulate in Peshawar, the capital of North West Frontier Province (NWFP), was fired upon at Gulbarg area of the city, police officer Nisar Ali said.
Hasan was shifted to the hospital and doctors said he is in critical condition. He died of wounds, doctors said.
No group claimed responsibility for the attack.
Witnesses said that two gunmen, riding motorcycle, fled after the attack.
Police said that the gunmen opened fire at Hasan, a Pakistani national, as he came out of his residence to go to the office.
Ali said that the Iranian consulate official received at least four bullets.
In November 2008, some gunmen kidnapped Iranian commercial attache Heshmatollah Atharzadeh in Peshawar. His driver was killed when the gunmen fired at his car. He has been missing since then.