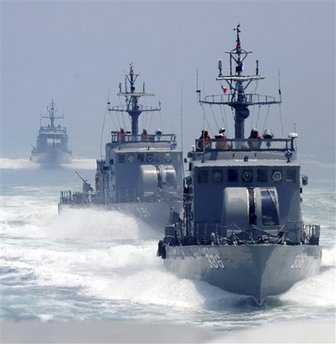 In this June 15, 2009 photo, South Korean Navy patrol boats engage in an exercise in the West Sea, South Korea. Navy ships of the two Koreas exchanged fire Tuesday, Nov. 10, 2009, along their disputed western sea border, a South Korean military officer said. [Agencies]
SEOUL: South Korea and the Democratic People's Republic of Korea (DPRK) clashed in naval coast off west coast of the peninsula in the morning of Tuesday, the Joint Chief of Staff (JCS) said.
According to the JCS, a DPRK patrol ship crossed South Korea's Northern Limit Line (NLL) around local time 11:28 a.m. (0228 GMT) near Baekryoung Island, leading the South Korean Navy to fire warning shots for around 15 minutes.
Related readings:


 DPRK: More arms-grade plutonium


 DPRK air force delegation arrives in Beijing


 DPRK says it has reprocessed nuclear fuel rods


 DPRK demands direct talks with US


 US envoy to visit DPRK, report says
As the DPRK vessel, ignoring the warnings, continued to sail into the southern territory, the South Korean Navy fired additional shots, it said.
The DPRK side is reportedly to have started countering shots at 11:37 a.m. (0237 GMT), and the clash lasted about 3 minutes, according to the JCS.
"No casualty has been reported on the South Korean side, and the North Korean (DPRK) vessel returned back after getting half- destructed at the clash," local media said, quoting the JCS.
Nine fishing boats were sailing near the site of the clash, but they were all moved to a safety zone, the JCS added.
South Korean President Lee Myung-bak, upon receiving the report of the clash, convened an emergency meeting, local news channel YTN reported.
The Ministry of Defense plans to hold a press briefing at local time 03:00 p.m. (0600 GMT).