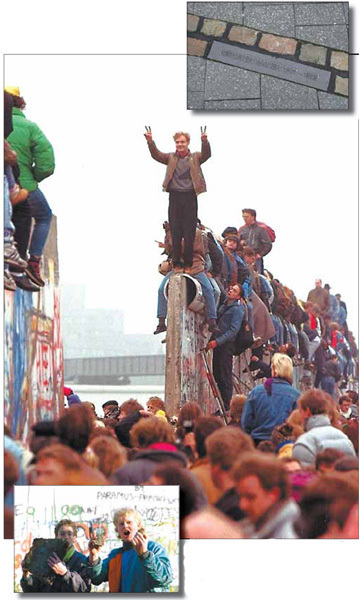 November 1989: Berliners celebrate on top of the wall as East Germans (backs to camera) flood through the dismantled Berlin Wall into West Berlin at Potsdamer Platz. Exultant teenagers (left) show off pieces of the wall, which almost immediately became collector's items.
2009: The stones of the Berlin Wall Trail (top photo) indicate where the Berlin Wall used to stand. [Agencies]
BERLIN: Twenty years after the fall of the Berlin Wall, Helmut Kohl's dream of a united Germany leading to a politically united Europe remains unfinished business.
It is set to stay that way despite the approval of the European Union's Lisbon Treaty this week by the lone holdout, the Czech Republic.
Resistance by Euro-skeptical Britain and reluctance by France to share more sovereignty prevented the EU moving any further towards Kohl's dream of a full political union akin to Germany's own federal system of governance.
Over time, the widening of Europe to embrace new members from the former Soviet bloc took precedence over deeper integration. The bloc has grown from 12 to 27 nations spanning most of the continent.
As Soviet domination ended around Eastern Europe in 1989, Kohl, then chancellor of West Germany, sought to ease his neighbors' acute anxieties over the scramble for reunification by embedding it in a wider process of European unity.
Reunited Germany did much to calm worries that it might throw its weight around in central Europe by actively promoting its eastern neighbors' bids to join the EU and NATO.
Related readings:


 Artists return for Wall facelift


 East Germans miss 'good life' of the GDR, says Honecker widow


 Germany marks the collapse of Berlin Wall


 One in seven Germans want Berlin Wall back: survey
A survey conducted by the Warsaw-based Institute of Public Affairs (ISP) in August showed 57 percent of Poles now think that relations between Poland and Germany are good or very good.
"Historical grievances will drag on for some time. It's inevitable. But Poles increasingly feel they are being treated as partners by the Germans, so the fears will fade with time," said Agnieszka Lada, an expert on Polish-German ties at ISP.
German firms invested heavily after the fall of communism in the emerging markets of Poland, the Czech Republic, Slovakia and Hungary, dubbed Germany's "extended production line", creating quality jobs and weaving a web of economic interdependence.
German Chancellor Angela Merkel has worked hard to smooth feathers ruffled by her predecessor, Gerhard Schroeder, notably over a planned Russian-German gas pipeline under the Baltic Sea that will cut out central Europe. A Polish minister compared that deal to the 1939 Nazi-Soviet non-aggression pact that was a prelude to the invasion and carve-up of Poland.
Western neighbors such as France and the Netherlands were also anxious in 1989 at the prospect of a more powerful united Germany coming to dominate the continent.
"There was a fear that a large Germany would adopt a new leading role in Europe, but that has not taken place," said Alfred Pijper of the Clingendael Netherlands Institute of International Relations.
"It is not dominating, and the German reluctance to be a leader made room for smaller states such as the Netherlands and Belgium to have a role in European affairs," he said.
France long resisted increasing reunited Germany's voting power in the EU to reflect its increased population. Paris finally accepted the principle in 2004. But at the insistence of Poland, the change in the voting system will only take effect in 2014 - a quarter of a century after the fall of the Wall.
Reuters