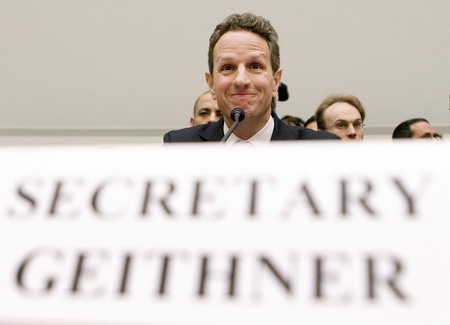 US Treasury Secretary Timothy Geithner testifies before the House Financial Services Committee on Capitol Hill in Washington, October 29, 2009. [Agencies]

CHICAGO: US third quarter growth data was very encouraging and showed the economy is stabilizing but difficulties still lie ahead, Treasury Secretary Timothy Geithner said on Thursday.
The government's first estimate of US gross domestic product showed the economy was still in an early phase of recovery and the government must keep reinforcing growth as risks of a credit crunch remain, Geithner said during a seminar at the Economic Club of Chicago.
Related readings:


Geithner: recession 'alive and acute'


Geithner: Regulation fight is a war


Geithner aides make millions on Wall Street


US praises China's efforts in recovery


Geithner: global economy needs stimulus
"The (GDP) number today was really encouraging....it was broad and strong and it wasn't just cash-for-clunkers and it wasn't just economic stimulus...but it's important to remember that it's very early," said Geithner.
The US economy grew in the third quarter for the first time in over a year as government stimulus helped lift consumer spending and home building, fueling an unexpectedly strong advance, the government data showed on Thursday.
Geithner expressed confidence problems in the US commercial real-estate market would not drag the economy down.
Commenting on the Obama administration's financial regulation reform drive, Geithner said there was broad support for the overhaul and it was on track to achieve major reforms.