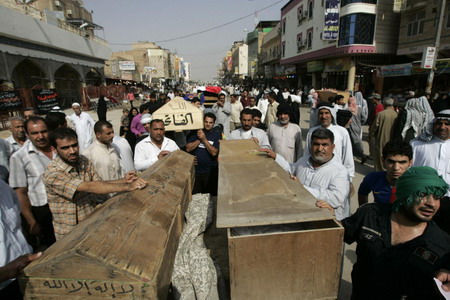 Relatives of Sunday's bomb victims prepare for their funerals in Najaf, 160 km (99 miles) south of Baghdad, October 26, 2009. [Agencies]
BAGHDAD: Al-Qaida's umbrella group in Iraq claimed responsibility for the twin suicide bombings in the heart of Baghdad that killed at least 155 people, including 24 children trapped in a bus leaving a day care center.
The al-Qaida branch, known as the Islamic State of Iraq, said in a statement posted on the Internet late Monday that its "martyears ... targeted the dens of infidelity."
Massive car bombs have been the hallmark of al-Qaida and Sunni insurgents seeking to overthrow the country's Shiite-dominated government in Iraq.
Related readings:


 Bombings target government in Baghdad, 147 killed

 Fragile Baghdad rocked by bombs, over 130 dead


 Iraq's al-Qaida claims Baghdad government bombings


 Bus bombings south of Baghdad kill at least 11


 Waves of Baghdad blasts kill 97
The attack Sunday in the heart of the Iraqi capital struck the Justice Ministry and the Baghdad Provincial Administration. It was Iraq's deadliest attacks in two years and it raised more fears about the country's ability to protect itself as it prepares for January elections and the US military withdrawal.
Among the dead were two dozen children, killed on a bus that was leaving a daycare center near the Justice Ministry at the time of the explosions, said an official at the hospital where the bodies were brought. The official spoke on condition of anonymity because he was not authorized to talk to the media.
The al-Qaida posting said the group's suicide bombers targeted the "pillars of the Safawi and rejectionist state in the land of caliphate," referring to the Shiite government in Baghdad and its close ally, Iran.
"One of these selected targets that were hit this time was the 'Ministry of Injustice and Oppression,' the so-called Ministry of Justice, along with the Baghdad Provincial Council," the militant statement said.
The authenticity of the statement, which appeared on a Web site commonly used for militant messaging, could not be independently confirmed. The same group also claimed responsibility for August bombings of two government ministries in Baghdad, when more than 100 people were killed.
Iraqi Prime Minister Nouri al-Maliki blamed those who want to tarnish his government's efforts to rebuild Iraq into a democratic state for Sunday's "terrorist acts."
"There's wicked political will behind these terrorists acts," al-Maliki said in a speech at Baghdad University on Monday.
"We are facing big challenges in the reconstruction process, but while we are building, they are destroying," al-Maliki said.