MIR ALI, Pakistan: The Pakistani army and the Taliban claimed to be inflicting heavy casualties on each other as fierce fighting raged Sunday on the second day of a military assault on an al-Qaida and Taliban sanctuary close to the Afghan border.
The outcome of the operation in South Waziristan stands to shape the future of nuclear-armed Pakistan and the militant groups seeking to topple its US-backed government. The region is home to jihadists behind soaring terrorist attacks around the country, as well as al-Qaida and other extremists believed to be plotting strikes in the West.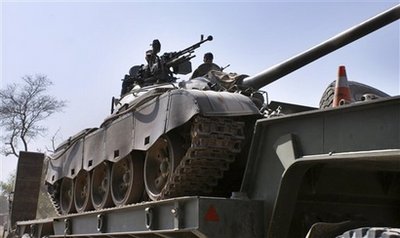 A Pakistan army tank is transported by truck passing through Bara, the main town of Pakistan's tribal region Khyber along Afghan border, Sunday, Oct. 18, 2009. [Agencies]
The army said 60 militants had been killed on the first day of the operation, while six soldiers had died. The Taliban claimed to have inflicted "heavy casualties" on the army and to have pushed invading soldiers back into their bases.
It was not possible to independently verify the conflicting claims because the army is blocking access to the battlefield and surrounding towns.
"We know how to fight this war and defeat the enemy with the minimum loss of our men," Taliban spokesman Azam Tariq told The Associated Press from an undisclosed location. "This is a war imposed on us and we will defend our land till our last man and our last drop of our blood. This is a war bound to end in the defeat of the Pakistan army."
Accounts from residents and those fleeing Sunday suggested that the 30,000 Pakistani troops were in for a bloodier time than in the Swat Valley, another northwestern region that the army successfully wrested away from insurgents earlier this year.
"Militants are offering very tough resistance to any movement of troops," Ehsan Mahsud, a resident of Makeen, a town in the region, told The Associated Press in the town of Mir Ali, close to the battle zone. He and a friend arrived there early Sunday after traveling through the night.
Related readings:


 Taliban fight back against Pakistan offensive


 Pakistan starts critical offensive against Taliban


 Air strike kills 20 Taliban militants in E. Afghanistan


 US Official: Taliban wealthier than al-Qaida
Mahsud said the army appeared to be mostly relying on air strikes and artillery against militants occupying high ground. He said the insurgents were firing heavy machine guns at helicopter gunships, forcing the air force to use higher-flying jets.
The army is up against about 10,000 local militants and about 1,500 foreign fighters, most of them from Central Asia. They control roughly 1,275 square miles (3,310 square kilometers) of territory, or about half of South Waziristan, in areas loyal to former militant chief Baitullah Mehsud, who was killed in a US missile strike in August.
Officials have said they envisage the operation will last two months, when winter weather will make fighting difficult.
A brief army statement said 60 militants had been killed, along with six soldiers, since Saturday. It said the army had secured high regions close to Razmak, where the army has had a base for several years, and destroyed six militant anti-aircraft gun positions.