FRANKFURT: When the world's largest trade fair for books opens its doors today, the spotlight will be on the Middle Kingdom.
Related readings:


 Xi attends Frankfurt book fair


 Frankfurt book fair focuses on china's literature


 Shanghai books to be displayed in Frankfurt

China is the theme of the 61st edition of the five-day Frankfurt Book Fair 2009. As the guest of honor, Beijing will kick-off a series of events with exhibits related to the publishing industry, displaying items ranging from ancient bone inscriptions to the technologically advanced electronic book readers.
Chinese Vice President Xi Jinping will attend the opening ceremony along with German Chancellor Angela Merkel at the Opera House. Xi, who is on the second leg of his five-country European tour, will also attend the guest of honor ceremony.
Liu Binjie, director of General Administration of Press and Publication, termed the event "the largest external cultural event since the Beijing Olympic Games". He said apart from focusing on China's publishing industry, Beijing's 612 events will also showcase Chinese culture and art.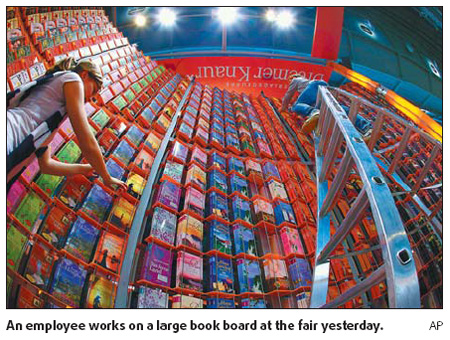 For instance, the 2,500-sq m China Forum, which is designed by artist Li Jiwei, incorporates the elements of paper, lettering characters and books to create a strong Chinese ambience. Its exhibits include rare items as hemp paper (made more than 2,000 years ago) and the Chinese translation of Huxley's Evolution & Ethics printed in the Qing Dynasty (1644-1911).
A series of events such as symposiums on publishing, demonstration of traditional Chinese printing and book readings are planned at the China Forum. Events are also planned outside the Forum with Peking Opera shows to be held in the square of the Messe Frankfurt and writers' exchange activities at the Literaturhaus Frankfurt.
Back at the fair, it will be all business-like; more than 2,000 Chinese publishers, artists, writers and poets are expected to make their way to the fair till Sunday. About 300 publishing companies - including those from Hong Kong, Macao and Taiwan - have brought 7,600 books and printed products to Frankfurt - the most in the history of Chinese publishing.
"This year we are planning to sell copyrights of 170 books to overseas companies. This will be twice of those sold last year," said Li Pengyi, vice president of China Publishing Group Corporation, one of the biggest publishing groups in the country. "We also hope to learn advanced management practices from our international counterparts at the book fair."
The Frankfurt Book Fair, the leading trading point for licensing everything from films to video games, is fast becoming a place to showcase upcoming trends in electronic publishing. And Chinese digital publishing companies are planning to do just that.
"As Chinese exhibitors, we will benefit a lot from this opportunity in terms of promoting our products on a global level," said Wang Bangjiang, vice president of Hanvon Technology, which will showcase its electronic book readers at the fair. The company will also sign a contract with Harper Collins, one of the largest English-language book publishers in the world, to import copyrights of thousands of books.
Xinhua contributed to this story