HELSINKI: In one of the quirkiest book cults America has never heard of, a round-snouted troll is hauling consumers' wallets from their pockets despite the worst recession in decades.
The license-holders for Moomin, who say license sales increased 35 percent this year, are contemplating expansion.
"We want to grow and be as profitable as we have been so far," said Sophia Jansson. "But in a way that increases the awareness of Moomin, starting from countries where books already are sold."
The artistic head and chairman of Moomin Characters, she is the niece of Finnish author and illustrator Tove Jansson, whose creation, the Moomintrolls, will soon turn 65.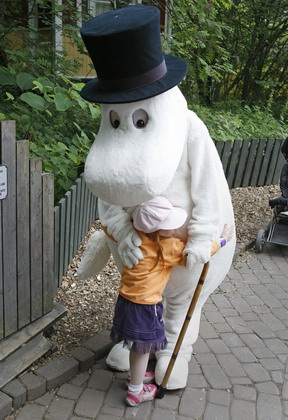 A child hugs one of the Moomin characters at Moomin World Theme Park in Naatali in July 2008. [Reuters]
Moomins - whose naive hero Moomintroll was the "nastiest creature" teenage Tove could imagine after a quarrel with her brother - are a lucrative publishing and licensing niche mostly in Nordic countries, Japan and Britain.
Since the 1945 publication of "The Moomins and the Great Flood", adventures with Moomin and parents Moominmamma and Moominpappa have featured in 13 novels and picturebooks translated into 40 languages, and thousands of cartoon strips.
The characters have also been used to brand a wide range of products including kitchenware, diapers, DVDs and tinned candy.
"They made me feel peaceful," said Tokyo-based Hideyuki Masumoto, 40, describing the characters he called his childhood friends while eyeing gifts in the tiny Moomin shop in Helsinki.
"They remind us of how we used to live in Japan; in a small community where everyone knows each other."
In Japan, children in the 1960s grew up with an animated television series of the trolls and loved Moomin, Masumoto said: his personal hero was Moomin's friend the wayfarer Snufkin, the "wise guy, who plays music and doesn't belong anywhere".
Inhabiting a land called Moominvalley, Moomins play into a similar vein of comfort to Disney's "Winnie-the-Pooh", revived by publishers Egmont in an Oct 5 sequel. But the deeply Finnish characters tap much darker mysteries than Pooh.
Bjorn Lindergaard, 30, a Dane in Helsinki on UN training, said he liked that the tales were inventive and realistic, and none of the characters were perfect: for example Little My, a tin-sized, fierce girl, with a positively aggressive temper.
"The Moominvalley looked very friendly, but there was also a darker side to it. Life was not just plain idyllic," he said.
Peaceful and realistic is how people see Moomins, but they are not human, said Jansson, whose firm manages the Moomintroll legacy and copyrights including up to 300 licensees.
"The Moomins are not people. You can't send them up the Eiffel Tower, they don't speak on cellphones, drive cars, or carry guns," she said.
Moomin Characters' chief executive Roleff Krakstrom said he is eyeing the US market. Moomin books were sold there half a century ago but the firm has no licensees and animations have aired only on Hawaii. But he is cautious.
"It is possible, but not obligatory," Krakstrom said. "We are reluctant to start a big project that could fail and label Moomin for a long time."
Last year Moomin Characters, which was founded by Tove and her brother and co-illustrator Lars Jansson, collected $6.69 million in license income and sales from its three brand shops in Helsinki, with operating profit at $2.18 million.
"Some think Moomin is only for the smallest family members, but for instance in Japan our main target group is 20-35-year old women," said Jansson: products for adults make half the firm's sales.
Reuters