WASHINGTON: US President Barack Obama will not meet the Dalai Lama during his five-day trip to the US capital that began on Monday.
Obama instead intends to wait until after his November summit with President Hu Jintao before meeting the Dalai Lama, possibly sometime in December, US officials said.
This will be the first time in 18 years the Dalai Lama would have visited Washington without seeing a US president.
Foreign Ministry spokesman Ma Zhaoxu said yesterday that China was firmly against "separatist activities conducted by the Dalai Lama in any country in any capacity".
"We firmly oppose any country having official contact with him," he added.
Foreign Minister Yang Jiechi said early this year that refusing visits by the Dalai Lama should become one of "the basic norms of international relations" of any country cultivating ties with China.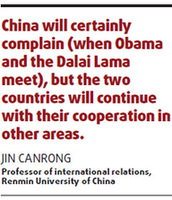 Sino-French ties fell to their lowest point after French President Nicolas Sarkozy met with the Dalai Lama in December last year, following which China postponed a summit with the European Union.
The decision to delay the meeting was conveyed to the Dalai Lama last month when Obama's senior advisor Valerie Jarrett and State Department Undersecretary Maria Otero traveled to Dharamsala, India, to explain the administration's approach on Tibet.
"The administration, I think, is aware it is breaking a precedent ... but clearly they have their reasons for that," said Kate Saunders, a spokeswoman for the Dalai Lama.
Saunders said the Dalai Lama actually agreed with the Obama administration's decision.
Related readings:


 Mainland opposes Dalai Lama's visit to Taiwan

 China firmly opposes Dalai's meeting any foreign officials


 Is Dalai's 'govt-in-exile' secular?


 Living Buddha chides Dalai Lama


 Delegation eases strain over Dalai visit
The Dalai Lama has met with the last three sitting US presidents during his visits to Washington. But this week's trip comes at a delicate time for a new US administration looking to improve relations with Beijing and win Chinese support for crucial foreign policy, economic and environmental goals.
The Dalai Lama arrived in Washington on Monday and planned to meet with House Speaker Nancy Pelosi, the Democratic leader in the lower chamber of the US Congress, and Maria Otero, who was named as special coordinator on Tibetan issues last week.
Asked if the decision not to meet the Dalai Lama signaled a change in the US policy on Tibet, State Department spokesman Ian Kelly said: "I wouldn't necessarily read ... anything into the decision beyond what it is."
Kelly said the administration wanted to engage China as an important global player but would not "downplay" disagreements over human rights.
A Chinese analyst yesterday played down any significance of Obama's decision, saying it was only "postponement", not "refusal", to meet the Dalai Lama.
It would have a "very negative" effect on Obama's China visit scheduled for November if he met the Dalai Lama now, said Jin Canrong, a professor of international relations at the Renmin University of China.
However, Jin said such a meeting would not affect the general development of Sino-US ties.
"China will certainly complain (when Obama and the Dalai Lama meet), but the two countries will continue with their cooperation in other areas," he said.
Reuters, AP and China Daily