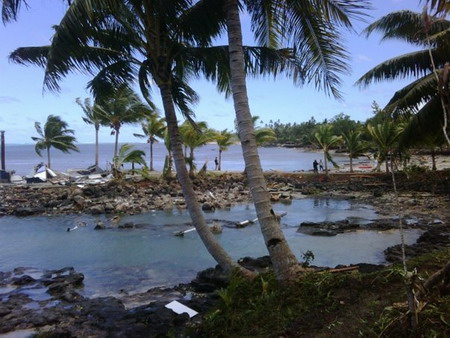 A view of the Sinalei resort, south of Apia, capital of Samoa, after it was struck by a tsunami September 30, 2009. [Agencies]

PAGO PAGO, American Samoa: A powerful Pacific Ocean earthquake spawned towering tsunami waves that swept ashore on Samoa and American Samoa early Tuesday, flattening villages, killing at least 34 people and leaving dozens of workers missing at devastated National Park Service facilities.
Cars and people were swept out to sea by the fast-churning water as survivors fled to high ground, where they remained huddled hours later. Hampered by power and communications outages, officials struggled to assess the casualties and damage.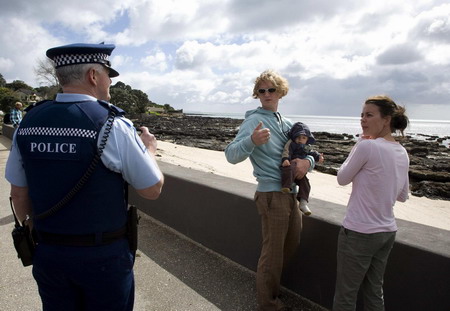 A policeman warns Heiko Wiedemann of Germany while he holds his son Maxim next to his wife Stefanie as they wait for a tsunami to hit the main North Shore beach of Takapuna in Auckland September 30, 2009. [Agencies]


The quake, with a magnitude between 8.0 and 8.3, struck around dawn about 20 miles below the ocean floor, 120 miles (190 kilometers) from American Samoa, a US territory that is home to 65,000 people, and 125 miles (200 kilometers) from Samoa.
Mike Reynolds, superintendent of the National Park of American Samoa, was quoted as saying four tsunami waves 15 to 20 feet high roared ashore soon afterward, reaching up to a mile inland. Holly Bundock, spokeswoman for the National Park Service's Pacific West Region in Oakland, Calif., said Reynolds spoke to officials from under a coconut tree uphill from Pago Pago Harbor and reported that the park's visitor center and offices appeared to have been destroyed.
Bundock said Reynolds and another park service staffer had been able to locate only 20 percent of the park's 13 to 15 employees and 30 to 50 volunteers.
Related readings:


 Up to 20 die after quake triggers Tsunami in Samoa


 Tsunami causes deaths in American Samoa-US park service


 8.0 magnitude quake generates tsunami off Samoa islands

 Strong quake hits Indonesia's Sumatra, no tsunami warning
Residents in both Samoa and American Samoa reported being shaken awake by the quake, which lasted two to three minutes. The Pacific Tsunami Warning Center issued a general alert from American Samoa to New Zealand; Tonga suffered some coastal damage from 13-foot waves.
Japan's Meteorological Agency also issued a tsunami warning all along that country's eastern coast.
Mase Akapo, a meteorologist for the National Weather Service in American Samoa, said at least 14 people were killed in four different villages on the main island of Tutuila, while 20 people died neighboring Samoa. The initial quake was followed by at three aftershocks of at least 5.6 magnitude.
An Associated Press reporter saw the bodies of about 20 victims in a hospital at Lalomanu town on the south coast of the main island, Upolu, and said the surrounding tourist coast had been flattened, with the dead including those who hesitated to leave right after the quake.
An unspecified number of fatalities and injuries were reported in the Samoan village of Talamoa. New Zealander Graeme Ansell said the beach village of Sau Sau Beach Fale was leveled.