PITTSBURGH, Pennsylvania: World leaders returned home on Saturday after backing a new vision for economic governance, with bold plans to fix global imbalances and give more clout to emerging giants such as China and India.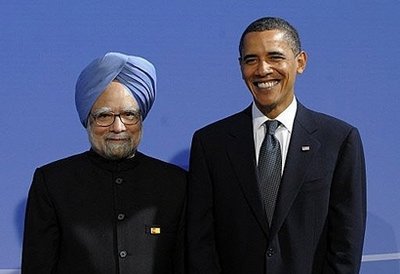 US President Barack Obama (R) welcomes Indian Prime Minister Manmohan Singh to the G20 dinner at the Phipps Conservatory on September 24, 2009 in Pittsburgh, Pennsylvania. [Agencies] 

Related readings:


 President Hu back home from UN meetings, G20 summit


 G20 summit ends with encouraging yields, challenges remain


 G20 leaders promise tighter regulations


 Honey and sweet talk at the G20 summit

They left the Group of 20 summit in Pittsburgh which ended on Friday, with agreement to give developing countries greater voting rights at two major financial institutions -- the International Monetary Fund (IMF) and the World Bank.
Leaders committed to shift at least 5 percent of the IMF's internal voting rights to the developing world and tasked it with a bigger role monitoring economic policy.
They also vowed to increasing underrepresented countries' voting rights by at least 3 percent at the World Bank.
Paired with an announcement underscoring the primacy of the G20 over the Group of Eight rich nations, the two days in Pittsburgh have seen a seismic shift in global economic diplomacy. Facts: Key agreements
US President Barack Obama, hosting his first major international summit, said the G20 had agreed landmark reforms that would create the international economic architecture necessary in the globalized 21st century.
He hailed a "new era of engagement" demonstrated by the engagements, vowing to bring more transparency to the derivatives market, bolster banks' capacity to withstand losses, hold large global financial firms accountable.
Responding to a demand by French and German leaders, he also promised to tie executive pay to performance "so that sound decisions are rewarded instead of short-term greed."
But unable to enforce measures on banks, leaders could only muster a pledge -- thin on detail -- to impose "strong international compensation standards aimed at ending practices that lead to excessive risk-taking."
Indian Prime Minister Manmohan Singh welcomed the decision to replace the G8, which he described as "ill-equipped" to oversee the modern global economy.
"Both developed and developing economies should take more solid and effective measures and make greater effort to boost consumption and expand domestic demand," said Chinese President Hu Jintao.
The G20 also agreed it was too early to begin to scale back the multi-trillion dollar stimulus measures that have helped stave off further economic misery following last year's financial meltdown.
"We will avoid any premature withdrawal of stimulus," the leaders said in their final statement, promising to withdraw the extraordinary measures "when the time is right" and in a cooperative and coordinated way."
During two days of meetings in the reborn former steel city considered a model for economic transformation, there was also tough talk about curbing banking excess, a symbolic issue for many taxpayers.
Banks themselves should also expect tighter regulation and monitoring as the excesses of the recent past came in for heavy suspicion in a strongly worded part of the G20 accord.
"All firms whose failure could pose a risk to financial stability must be subject to consistent, consolidated supervision and regulation with high standards," it said.
The most tangible agreed change was to make the G20 the "main forum for our international economic cooperation," as expressed in a final communique.
The White House said the move "brings to the table the countries needed to build a stronger, more balanced global economy, reform the financial system and lift the lives of the poorest."
The G8 -- wealthy nations Britain, Canada, France, Germany, Italy, Japan, Russia and the United States -- has served in various forms as the premier economic forum since 1975 and holds closely-watched annual summits.