GENEVA: Production of H1N1 vaccine over the next year will be "substantially less" than the 4.9 billion doses previously forecast but one dose should provide adequate protection, the World Health Organization (WHO) said on Friday.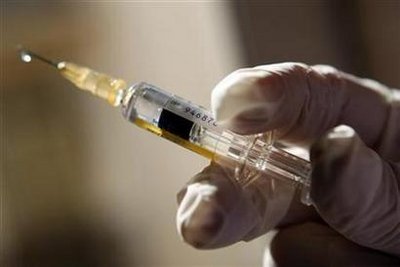 A doctor prepares a syringe in a municipal vaccination centre in Nice, southeastern France, September 9, 2009. [Agencies]
Based on clinical test results from some 25 drugmakers, weekly production of the new vaccine will be less than 94 million doses, WHO spokesman Gregory Hartl said.
Related readings:


 Australia approves rollout of H1N1 flu vaccine

 H1N1: Looking back and ahead

 Confirmed A/H1N1 cases increase to 116 in Yunnan


 Mainland's H1N1 flu cases reach 10,000


 13 newly A/H1N1 confirmed in Ludong University
"The real figure will be substantially less than 4.9 billion (over the year)," Hartl told reporters.
But supply fears have eased as the northern hemisphere heads into winter and with major drug manufacturers reporting that a single dose is successfully providing immunity.
"All the clinical trial results that we have seen show that apparently one dose is enough," Hartl said.
The United Nations agency previously forecast one third of the world's nearly seven billion people could be affected by the H1N1 pandemic, but so far the vast majority of victims are suffering only mild symptoms.
Health care workers and people at high risk, including pregnant women and those with underlying conditions such as asthma or diabetes, should be top priority for receiving the new vaccine, it says.
Hartl gave no exact new forecast for annual production capacity, but WHO vaccine expert Dr. Marie-Paule Kieny is tentatively set to give a briefing next Thursday at 1500GMT.
He noted WHO's previous estimate of 4.9 billion doses had been based on drugmakers switching all production of seasonal flu vaccine to the new vaccine, getting good yields and using an immune booster known as an adjuvant to stretch supplies.
WHO continues to recommend that people be inoculated against both seasonal and H1N1 flu, Hartl said.
Some 3,486 people have died of A(H1N1) flu to date, including about 300 in the past week, according to a new WHO tally.
Inadequate vaccine supplies
In a statement, the WHO said current supplies of pandemic vaccine are "inadequate for a world population in which virtually everyone is susceptible to infection."
But the WHO also welcomed an agreement that nine rich countries will share H1N1 vaccine with less-developed countries under a donation program over the next 6-8 months.
"The announcement demonstrates the commitment of these countries to fairness in sharing of scarce resources as the pandemic (H1N1) 2009 continues to evolve," it said.
Under the deal announced overnight, the United States pledged 10 percent of its supply, joining Australia, Brazil, Britain, France, Italy, New Zealand, Norway and Switzerland. The WHO said it had no overall figure for the vaccine donation.
Vaccine makers GlaxoSmithKline and Sanofi-Pasteur previously pledged 120 million doses to the Geneva-based WHO.
Some 85 of WHO's 193 member states have reported that they do not have access to H1N1 vaccine supplies, according to Hartl.
Vaccines donated to the WHO will be distributed to those needy countries able to ensure adequate distribution and vaccination plans are in place, he said. Another criteria is their ability to do checks to detect any side effects.
"The order in which we distribute vaccines would also depend on where on the epidemiological curve the country is," he said, referring to whether the pandemic strain has already struck a given population or is about to.
Switzerland said on Friday it had bought 13 million doses of the H1N1 vaccine from Novartis AG and GlaxoSmithKline.