NEW YORK: A veteran New York City news anchor flubs a line and an obscene catch phrase goes viral on the Internet.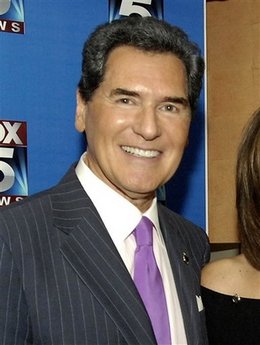 In this March 15, 2007 file photo originally released by Fox 5, WNYW Fox 5 anchor Ernie Anastos poses for a photo at the 40th Anniversary celebration of their 10 pm newscast in New York. [Agencies]

Ernie Anastos of Fox affiliate WNYW was bantering with the weatherman Wednesday night when he cheerfully dropped an F-bomb on the air. What he likely intended to say was, "Keep plucking that chicken."
Anastos didn't appear to recognize the error, though co-anchor Dari Alexander's eyes bugged out after he said it.
Just before the flub, Anastos told weatherman Nick Gregory, "It takes a tough man to make a tender forecast," a play on an old chicken commercial.
Videos of the mistake circulated widely online Thursday, as the phrase took on a life of its own.
Fox isn't laughing, though. The vice president and general manager of WNYW, Lew Leone, said he's "disappointed" in Anastos' comment.
Anastos apologized during Thursday's newscast.
"I misspoke during last night's newscast," he said. "I apologize for my remarks to anyone who may have been offended."
Anastos, an Emmy-winning anchor, has been a mainstay on New York's evening news for more than three decades.
Another longtime New York anchor, Sue Simmons, last year inadvertently cursed as she did a teaser for WNBC's newscast and the wrong footage was being shown. She also gave an on-air apology.